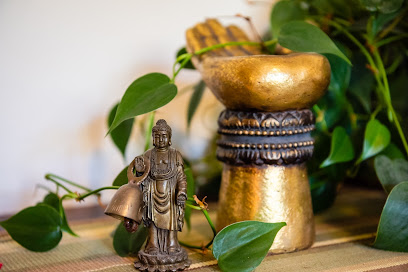 Clínica de acupuntura
Alma Acupuncture
Dirección
1437-A Leimert Blvd, Oakland, CA 94602, Estados Unidos
Ciudad : Oakland, California, EE. UU.
Provincia :Estados Unidos
Pagina web :
Telefono : +1 510-593-7514
email :
Valoración por los usuarios de google maps : 4,0
Cantidad de opiniones de los usuarios de google maps :4
Opiniones de los usuarios de google maps :
Hillary A (5)
(Traducido por Google) Sara Rankin es una acupunturista increíblemente informativa y compasiva que siempre tiene una respuesta comprensible a mis preguntas de dolencia. He sido paciente de ella durante seis años y he llegado a incorporar su toque curativo en mi vida. Su oficina está ubicada en el encantador distrito de Oakmore de Oakland. Hablando de su oficina, considero que es un espacio acogedor y suave que es propicio para relajarse en un tratamiento de acupuntura. Además, su sólido conocimiento de las hierbas chinas complementa sus tratamientos de acupuntura.
(Original)
Sara Rankin is an incredibly informative, compassionate acupuncturist who always has an understandable answer to my ailment questions. I have been a patient of hers for six years now, and have come to incorporate her healing touch into my life. Her office is located in the lovely Oakmore District of Oakland. Speaking of her office, I find it to be a welcoming, mellow space that is conducive to relaxing into an acupuncture treatment. Additionally, her robust knowledge of Chinese herbs compliments her acupuncture treatments.
Blaze Farrar (5)
(Traducido por Google) He ido a Sara de vez en cuando durante unos 10 años. Ella es una acupunturista maravillosa. Ella siempre está ampliando sus conocimientos y ofertas, lo cual es bastante bueno para una oficina para una sola persona. Recientemente, me he beneficiado de los espasmos musculares en la espalda. Cuando estaba pasando por «el cambio», Sara proporcionó hierbas, información y un gran apoyo; realmente me ayudó con mis síntomas. Ella es inteligente, pensativa, talentosa. No podría pedir más.
(Original)
I have gone to Sara off and on for about 10 years. She is a wonderful acupuncturist. She is always expanding her knowledge and offerings, which is pretty great for a single-person office.Recently, I have benefited from cupping for my back muscle spasms. When I was going through «the change,» Sara provided herbs, insight, and great support–really helped my symptoms. She$0027s smart, thoughtful, talented. I couldn$0027t ask for more.
Sonia Socinfo (5)
(Traducido por Google) Sara me ha estado ayudando a sanar de una lesión grave durante los últimos meses. Ella es muy profesional, amable y cariñosa. Su oficina es hermosa, tranquila y muy limpia. La recomiendo mucho.
(Original)
Sara has been helping me heal from a serious injury for the past several months. She is very professional, kind and caring. Her office is beautiful, peaceful and very clean. I very highly recommend her.
Tina Nguyen (1)
Las anteriores son opiniones que los usuarios han dejado en el sitio de google maps del local.
No nos hacemos responsables de dichas opiniones.
Ver mas información del centro en internet  Alma AcupunctureOakland, California, EE. UU.
Horario y dias de apertura :
martes, Cerrado; miércoles, De 10:30 a 19:00; jueves, Cerrado; viernes, De 10:30 a 19:00; sábado, Cerrado; domingo, Cerrado; lunes (Labor Day), De 10:30 a 19:00, El horario podría cambiar

En el mapa pulse : Como llegar , para que el mapa le muestre el camino , desde su ubicación
ver el mapa en otra pagina pulse aqui .
Vea Clínica de acupuntura, en esta provincia .
Vea Clínica de acupuntura, cerca de usted .
Actualizar información de esta pagina , añada la nueva informacion en la parte inferior de esta pag. , en el apartado deja una respuesta, con su nombre y correo reales, no nos escriba un email nosotros no actualizamos la información »
Busqueda de otras Clínica de acupuntura en distintas localidades
Ejemplo de busquedas
– Clínica de acupuntura : para buscar todas las Clínica de acupuntura en Oakland, California, EE. UU..
– Clínica de acupuntura Alma Acupuncture: buscar Clínica de acupuntura con ese nombre.
  Clínica de acupuntura