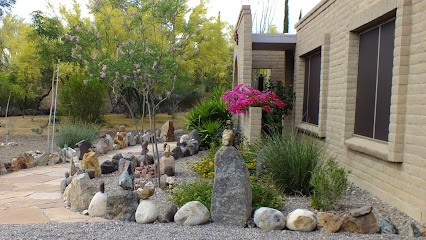 Clínica de acupuntura
American Health Acupuncture
Dirección
7130 N Omar Dr, Tucson, AZ 85741, Estados Unidos
Ciudad : Tucson, Arizona, EE. UU.
Provincia :Estados Unidos
Pagina web :
Telefono : +1 520-544-6603
email :
Valoración por los usuarios de google maps : 5,0
Cantidad de opiniones de los usuarios de google maps :55
Opiniones de los usuarios de google maps :
noemi montoya (5)
Empece con un dolor en la ciatica, intente curarme con ejercicios, pomadas, parches pero no funciono. Me fui con un medico no vi resultado. El dolor estaba empeorando, por ahora meses habian pasado. Una amiga menciona a alguien con un problema peor que el mio y habia sanado. Asi que puse cita con Sr. Juan (como yo le dijo en mi casa) y empece mi tratamiento. Me sentia mejor y mejor hasta que se me quito y no ha regresado hasta la fecha. Se lo recomiendo, se lo que es este dolor. Gracias Sr. Juan por curarme y Sherry por tu apoyo
CRISTOBAL PONCE (5)
En American Health Acupuncture he encontrado una alternativa a problemas de salud que la medicina tradicional no ha podido darme, he logrado sentirme mejor y no recurrir a tanto medicamento como antes . Sherry y Juan me hacen sentir que soy una persona especial y que siempre estan alli para ayudarme .
Thanks again!
Danny Rincon (5)
(Traducido por Google) ¡Fenomenal! Decidí probar American Health Acupuncture después de 6 meses de múltiples y costosas citas de neurología para mis migrañas que aumentaban rápidamente. Después de tres tratamientos, las migrañas se detuvieron, tres tratamientos después de eso, los dolores de cabeza se redujeron a una vez por semana. (¡Gran éxito después de tener múltiples migrañas a la semana!) Ahora creo firmemente en Juan y sus métodos de acupuntura. Juan y Sherry son personas maravillosas, muy amables y compasivas. Si está leyendo esto, ya está considerando la acupuntura. ¡Pruébalo! ¡Usted no será decepcionado!
(Original)
Phenomenal! Decided to try American Health Acupuncture after 6 moths of multiple expensive neurology appointments for my rapidly increasing migraines. After three treatments, migraines have stopped, three treatments after that, headaches are down to once a week. (Huge success after having multiple migraines a week!) I am now a firm believer in Juan and his Acupuncture methods. Juan and Sherry are wonderful and very kind, compassionate people. If you are reading this, you are already considering acupuncture. Try it out! You will not be disappointed!
Mark Woodburn (5)
(Traducido por Google) Juan y Sherry son muy amables y encantadores. Juan es asombroso con su trabajo de acupuntura y realmente se sintoniza con la curación de todo el cuerpo. Lo recomiendo encarecidamente si está interesado en explorar la acupuntura y aliviar sus problemas de salud.
(Original)
Juan and Sherry are so kind and lovely. Juan is amazing with his acupuncture work and really tunes into whole body healing. I highly suggest him if you are interested in exploring acupuncture and alleviating your health concerns.
Cary Ike (5)
(Traducido por Google) No estoy seguro de por dónde empezar, tenía mucho dolor debido a un ciático, era tan fuerte que podía caminar muy lejos y el dolor me atravesaba la rodilla de la pierna y me llegaba hasta el tobillo. Simplemente miserable. Había estado en un quiropráctico durante meses y un terapeuta masivo y nada funcionaba. Así que pensé qué podía perder al probar la acupuntura. Y encontré esta oficina. Sherry me atrapó ese día y el Dr. Juan es increíble. Salí después del increíble tratamiento con un dolor mínimo. Programa otra cita y la vida vuelve a ser buena. Todavía voy una vez al mes para mantener, pero no puedo decir lo suficiente sobre cuánto ha mejorado mi vida.
(Original)
I'm not sure where to start, I was in a lot of pain from a Sciatic it was so bad that I could walk very far the pain would shoot all through my leg knee and down to my ankle. Just Miserable. I had been to a Chiropractor for months and a massive Therapist and nothing was working. So I thought what do I have to loose trying Acupuncture. And I found this office. Sherry got me in that day and Dr Juan is amazing. I walked out after the amazing treatment with minimal pain. Schedule another appointment and life is good again. I'm still going once a month to maintain but I can't say enough about how much he has improved my life.
Vanessa King (5)
(Traducido por Google) American Health La acupuntura es un lugar de curación increíble. Sus tratamientos y servicios me ayudan a controlar los síntomas para que pueda funcionar en la vida diaria. He estado recibiendo tratamientos de Juan durante años para ayudar a controlar los síntomas de la migraña. Durante los últimos 6 meses he estado trabajando con Juan regularmente para aliviar otras dolencias también. Juan es un sanador natural que pasa tiempo para apoyarme y descubrir formas de fortalecerme. Sherry proporciona una presencia reconfortante y positiva cada vez. Ambos se enorgullecen de crear una experiencia acogedora y profesional. No hay mejor lugar que American Health Acupuncture para el apoyo curativo.
(Original)
American Health Acupuncture is an amazing healing place. Their treatments and services help me manage symptoms so I can function in daily life. I have been receiving treatments from Juan for years to help manage migraine symptoms. For the past 6 months I have been working with Juan on a regular basis to relieve other ailments as well. Juan is a natural healer who spends time to support and discover ways to strengthen me. Sherry provides a comforting and positive presence every time. They both take pride in creating a welcoming and professional experience. There is no better place than American Health Acupuncture for healing support.
Lisa Nico (5)
(Traducido por Google) Fui a ver a Juan Tejada recientemente por recomendación de mi cuñado. Lo encontré muy intuitivo y sus tratamientos muy curativos. Tengo varios problemas de salud, pero la razón principal para verlo fue por mis migrañas crónicas. Rara vez tengo más de un día seguido sin migraña, pero después de tres tratamientos consecutivos con Juan, ¡tuve 5 DÍAS SIN MIGRAÑA! Recomiendo encarecidamente American Health Acupuncture si está buscando remedios curativos más naturales. Su esposa, Sherry, la gerente de la oficina, también fue increíble y me dio mucha información útil sobre dónde comprar productos para el cuidado personal y del hogar más saludables.
(Original)
I went to see Juan Tejada recently at the recommendation of my brother-in-law. I found him to be very intuitive and his treatments very healing. I have multiple health issues but my main reason for seeing him was because of my chronic migraines. I rarely have more than one day in a row without a migraine, but after three consecutive treatments with Juan, I had 5 DAYS WITHOUT A MIGRAINE!!! I highly recommend American Health Acupuncture if you are looking for more natural healing remedies. His wife, Sherry, the office manager, was also amazing and gave me lots of helpful information on where to buy healthier personal and home care products.
Amanda Smicklas DC (5)
(Traducido por Google) Juan ha sido mi acupunturista durante diez años. Él es un curandero increíble. ¡Lo veo como parte de mi cuidado general de bienestar! Sherry es asombrosa acerca de programarme lo antes posible. Ella hace que todos se sientan bienvenidos tan pronto como entras por la puerta. Recomiendo la acupuntura Aha a todos los que conozco!
(Original)
Juan has been my acupuncturist for ten years. He is an amazing healer. I see him as part of my overall wellness care! Sherry is awesome about scheduling me in asap. She makes everyone feel welcome as soon as you walk in the door. I highly recommend Aha Acupuncture to everyone I know!
lydie Vagnerova (5)
(Traducido por Google) Tuve la mejor experiencia en la American Health Acupuncture. Juan y Sherry Tejada nos están cuidando mucho a mí y a mi familia.
Son muy amables y alentadores; solo su presencia es terapéutica.
Tanto Juan como Sherry tienen muchos años de experiencia. Son muy eficientes y pacientes para responder todas nuestras preguntas.
Recomiendo mucho a American Health Acupuncture en su viaje para sanar su cuerpo, mente y espíritu.
(Original)
I had the best experience at the American Health Acupuncture. Juan and Sherry Tejada are taking great care of me and my family.
They are very kind and encouraging; just their presence is therapeutic.
Both Juan and Sherry have many years of experience.They are very knowledgeable and patient to answer all our questions.
I highly recommend American Health Acupuncture on your journey to heal your body, mind and spirit.
Lisa Becksted (5)
(Traducido por Google) Juan Tejada es un curandero natural. Escucha a sus pacientes cuando le dicen cómo se sienten, y luego escucha intuitivamente su cuerpo para determinar la mejor forma de tratamiento ese día. Soy ultra sensible a la hora de gestionar cualquier tipo de trabajo energético, por lo que realmente necesito un practicante que me cuide. Es maravilloso trabajar con Juan y Sherrie, ¡haciendo que cada paciente se sienta respetado y cuidado!
(Original)
Juan Tejada is a natural healer. He listens to his patients when they tell him how they$0027re feeling, and then intuitively listens to their body to determine the best form of treatment on that day. I am an ultra sensitive when it comes to managing any type of energy work, so I really need a practitioner who nurtures me. Juan and Sherrie are wonderful to work with, making each patient feel respected and cared for!
Las anteriores son opiniones que los usuarios han dejado en el sitio de google maps del local.
No nos hacemos responsables de dichas opiniones.
Ver mas información del centro en internet  American Health AcupunctureTucson, Arizona, EE. UU.
Horario y dias de apertura :
martes, Cerrado; miércoles, De 10:00 a 18:00; jueves, De 10:00 a 18:00; viernes, De 10:00 a 18:00; sábado, De 9:00 a 12:00; domingo, Cerrado; lunes (Labor Day), Cerrado, El horario podría cambiar

En el mapa pulse : Como llegar , para que el mapa le muestre el camino , desde su ubicación
ver el mapa en otra pagina pulse aqui .
Vea Clínica de acupuntura, en esta provincia .
Vea Clínica de acupuntura, cerca de usted .
Actualizar información de esta pagina , añada la nueva informacion en la parte inferior de esta pag. , en el apartado deja una respuesta, con su nombre y correo reales, no nos escriba un email nosotros no actualizamos la información »
Busqueda de otras Clínica de acupuntura en distintas localidades
Ejemplo de busquedas
– Clínica de acupuntura : para buscar todas las Clínica de acupuntura en Tucson, Arizona, EE. UU..
– Clínica de acupuntura American Health Acupuncture: buscar Clínica de acupuntura con ese nombre.
  Clínica de acupuntura