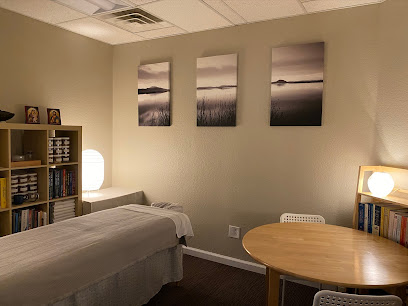 Acupuntor
Anna L. Tsu, Lac
Dirección
1100 Melody Ln STE 140, Roseville, CA 95678, Estados Unidos
Ciudad : Roseville, California, EE. UU.
Provincia :Estados Unidos
Pagina web :
Telefono : +1 916-508-8893
email :
Valoración por los usuarios de google maps : 5,0
Cantidad de opiniones de los usuarios de google maps :2
Opiniones de los usuarios de google maps :
Ted Johann (5)
(Traducido por Google) ¡El mejor acupunturista en Sacramento!
Este especialista en medicina asiática superó mis expectativas. Tuve dolor en el cuello, los hombros y la parte superior de la espalda durante más de 20 años. El dolor cada mañana fue aceptado como el precio que tenía que pagar debido a mis demandas de trabajo físico. ¡Después de solo 3 citas, estoy completamente libre de dolor y es una gran sensación!
Anna es extremadamente eficiente, profesional, agradable pero eficiente y puntual, muy organizada.
Sala de tratamiento ordenada, tranquila y limpia con música relajante, muy relajante (me quedo dormido casi siempre …)
A diferencia de otros practicantes, Anna atiende a 1 paciente a la vez, por lo tanto, sé que en cada sesión recibo toda su atención, nunca me apuró y respondió de manera competente y paciente a todas mis preguntas (y generalmente tengo muchas …)
¡Sus habilidades son increíbles, las agujas entran sin dolor perceptible! Citas de 1 hora con un valor excepcional para el servicio.
¡Tengo una cita permanente una vez a la semana ya que quiero asegurarme de que mi antiguo dolor no vuelva!
Si está cansado de que el feliz pase por las recetas de medicamentos y los «tratamientos» que no aborden la causa misma de sus dolencias, ¡debería probar con Anna!
Anna, gracias por quitarme el dolor de espalda.
(Original)
Best acupuncturist in Sacramento !
This Asian medicine specialist exceeded my expectations. I had pain in my neck, shoulders and upper back for over 20 yrs. Pain every morning was accepted as the price I had to pay due to my physical work demands. After only 3 appointments I am completely pain free and it is such a great feeling!
Anna is extremely knowledgeable, professional, pleasant but efficient and punctual, very organized.
Treatment room neat, quiet and clean with soothing music, very relaxing ( I fall asleep almost every time…)
Unlike other practitioners Anna takes care of 1 patient at a time only, therefore I know that every session, I get her full attention, she never rushed me and competently and patiently answered all my questions.( and I usually have many…)
Her skills are amazing, needles go in with no discernible pain!!! 1 hour appointments with an outstanding value for service.
I have a standing appointment once a week since I want to make sure my old time pain does not come back!
If you are tired of the merry go round drug prescriptions and "treatments" not addressing the very cause of your ailments you ought to give Anna a try!
Anna, thank you for taking my back pain away!
Leticia Mays (5)
(Traducido por Google) En una palabra, ¡increíble! Después de luchar durante las severas náuseas matutinas (que duraron todo el día y toda la noche) durante semanas, tuve la bendición de tener la oportunidad de ser vista por Anna. ¡Ella es una maestra de la curación y más amable de lo que uno podría expresar! Explicó todo mientras daba el tratamiento y me hizo sentir cómoda, cómoda y segura de la atención que estaba recibiendo. Los cambios que sentí en mi salud general (física y mental) después de los tratamientos con Anna realmente cambiaron mi vida. Estoy siempre en deuda por la atención que recibí. Lo recomiendo encarecidamente!
(Original)
In one word-amazing! After struggling severe morning sickness (that lasted all day and night) for weeks, I had the blessing of an opportunity to be seen by Anna. She is a master of healing and kinder than one could express! She explained everything as she delivered treatment and made me feel comfortable, at ease and confident at the care I was receiving. The changes I felt in my overall health (physical and mental) following treatments with Anna were truly life changing. I am forever indebted for the care I received. Would highly recommend!
Las anteriores son opiniones que los usuarios han dejado en el sitio de google maps del local.
No nos hacemos responsables de dichas opiniones.
Ver mas información del centro en internet  Anna L. Tsu, LacRoseville, California, EE. UU.
Horario y dias de apertura :
martes, De 13:00 a 19:00; miércoles, De 12:00 a 16:00; jueves, De 12:00 a 19:00; viernes, De 12:00 a 19:00; sábado, De 12:00 a 16:00; domingo, De 14:00 a 18:00; lunes (Labor Day), De 12:00 a 19:00, El horario podría cambiar

En el mapa pulse : Como llegar , para que el mapa le muestre el camino , desde su ubicación
ver el mapa en otra pagina pulse aqui .
Vea Acupuntor, en esta provincia .
Vea Acupuntor, cerca de usted .
Actualizar información de esta pagina , añada la nueva informacion en la parte inferior de esta pag. , en el apartado deja una respuesta, con su nombre y correo reales, no nos escriba un email nosotros no actualizamos la información »
Busqueda de otras Acupuntor en distintas localidades
Ejemplo de busquedas
– Acupuntor : para buscar todas las Acupuntor en Roseville, California, EE. UU..
– Acupuntor Anna L. Tsu, Lac: buscar Acupuntor con ese nombre.
  Acupuntor