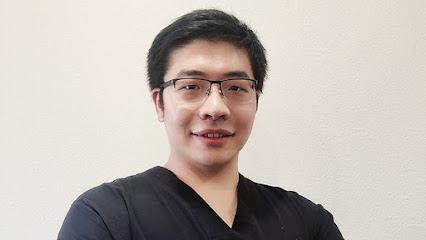 Clínica de acupuntura
David Di Acupuncture
Dirección
714 W Olympic Blvd STE 707, Los Angeles, CA 90015, Estados Unidos
Ciudad : Los Ángeles, California, EE. UU.
Provincia :Estados Unidos
Pagina web :
Telefono : +1 213-749-1909
email :
Valoración por los usuarios de google maps : 5,0
Cantidad de opiniones de los usuarios de google maps :50
Opiniones de los usuarios de google maps :
Kennelia Stradwick (5)
(Traducido por Google) Había estado experimentando lo que parece ser un dolor crónico después de un procedimiento de bandas durante casi 8 meses. Después de múltiples viajes al médico, cirujanos colorrectales y la sala de emergencias 2 veces, estaba en mi punto más bajo. Pero después de una sugerencia de amigos, encontré al Dr. David en línea y ¡ha sido un salvavidas absoluto! ¡10 de los 10! Era la primera vez que probaba la acupuntura, así que estaba un poco nerviosa. Pero el Dr. David me explicó todo el proceso y me hizo sentir a gusto. Me puso en un plan de tratamiento semanal y después de 2-3 meses, mi dolor pasó de más de 10 a 1, tal vez 2. ¡Muy recomendable! Especialmente para aquellos que lidian con problemas de dolor crónico.
(Original)
I had been experiencing what seems to be chronic pain after a banding procedure for almost 8 months. After multiple trips to the doctor, colorectal surgeons and the ER 2 times, I was at my lowest. But after a suggestion from friends, I found Dr. David online and he's been an absolute lifesaver! 10 out of 10! This was my first time trying acupuncture, so I was a bit nervous. But Dr. David explained the entire process and made me feel at ease. He put me on a weekly treatment plan and after 2-3 months, my pain went from above a 10 to a 1, maybe 2. Highly recommend! Especially for those dealing with chronic pain issues.
Amanda Clark (5)
(Traducido por Google) Sufro de dolor de cuello y hombros, así como de SOP. He tenido excelentes experiencias con la acupuntura antes para aliviar el dolor, y el Dr. Di definitivamente está en mi lista de maravillosos practicantes. Su atención se adapta cuidadosamente a mis necesidades, y me encanta que combine la acupuntura, las ventosas, el masaje y los ajustes en función de lo que cree que te beneficiará mejor ese día. ¡Mi dolor se ha reducido significativamente desde que comencé a verlo!
(Original)
I suffer from neck and shoulder pain, as well as PCOS. I$0027ve had great experiences with acupuncture before to alleviate pain, and Dr. Di is definitely on my list of wonderful practitioners. His care is carefully customized to my needs, and I love that he combines acupuncture, cupping, massage and adjustments based on what he feels would best benefit you for that day. My pain has significantly reduced since starting to see him!
Galaan Hayle (5)
(Traducido por Google) David es el mejor en lo que hace. He estado en varias clínicas de acupuntura por un dolor crónico continuo en el cuello y el hombro. Tenga la seguridad de que esta no es una de esas clínicas genéricas que ve por ahí. David escucha tus inquietudes y ajusta los planes de tratamiento a tus necesidades. Se preocupa por el bienestar de sus pacientes. Su tratamiento es muy holístico y combina masaje, ventosas, acupuntura, terapia manual y Gua Sha. Esta es la mejor clínica de acupuntura que uno podría desear.
(Original)
David is the best at what he does. I have been to several acupuncture clinics for an ongoing chronic neck and shoulder pain. Rest assured that this is not one of those generic clinics you see out there. David listens to your concerns and adjusts the treatment plans to your needs. He cares about his patients well-being. His treatment is very holistic and combines massage, cupping, acupuncture, manual therapy and Gua Sha. This is the best acupuncture clinic one could hope for.
Liseth Amaya (5)
(Traducido por Google) Esta es la primera vez que pruebo la acupuntura y tengo mucha suerte de haber encontrado a David Di. Llegué con ansiedad, dolor de espalda, dolor de cadera y problemas para dormir. Quería encontrar un remedio natural. Desde mi primera sesión, David Di me hizo sentir escuchada y cómoda. Actualmente estoy en un plan de tratamiento que me ha ayudado mucho. Recomiendo encarecidamente la acupuntura para cualquiera que no la haya probado, pero especialmente con David Di.
(Original)
This is my first time trying acupuncture and I'm so fortunate to have found David Di. I came in with anxiety, back pain, hip pain and trouble sleeping. I wanted to find a natural remedy. From my very first session David Di made me feel heard and at ease. I'm currently on a treatment plan that has helped me so much. I highly recommend Acupuncture for anyone who hasn't tried it but especially with David Di.
Yuchen Lin (5)
(Traducido por Google) David está siendo muy paciente y amable. ¡Él es experto en su método combinado de tratamiento! Se encargó de mi insomnio y gripe. Visité muchos médicos chinos en el pasado y esta fue mi mejor experiencia en general.
(Original)
David is being very patient and gentle. He is skilled at his combined method of treatment! He took care of my insomnia and flu. I visited lots of Chinese doctors in the past and this was my overall best experience.
Jackie Bi (5)
(Traducido por Google) Tengo mi dolor de espalda desde hace muchos años. Finalmente decidí probar Di Acupuncture, David explicó mi condición de salud y señaló la causa raíz de mi condición. Como él sugirió, probé algunos tratamientos y sentí algunos resultados positivos. Nunca me he dado cuenta de que una pequeña aguja puede funcionar en mi condición. Realmente aprecio el tratamiento que me brindó y mis dolores desaparecieron ahora, pero seguiré regresando para recibir mantenimiento.
(Original)
I have my back pain for many years. I finally decided to try Di Acupuncture, David explained my health condition and pointed out the root cause of my condition. As he suggested I have tried a few treatments and I felt some positive results. I have never realized a small needle can work on my condition. I really appreciate the treatment he provided and my pains are gone now, but I will keep coming back for maintenance.
Linna Yi (5)
(Traducido por Google) David es extremadamente profesional y servicial. Es difícil encontrar un médico verdaderamente comprensivo en el área; Solo había hecho dos visitas y ya me sentía mucho mejor. La ubicación es excelente, fácil de estacionar en el lote al lado del edificio ($ 5).
(Original)
David is extremely professional and helpful. It is hard to find a truly caring doctor in the area; I had only done two visits and already feeling much better. Location is prime easy to park at the lot next to the building ($5).
Jonathan Ealey (5)
(Traducido por Google) Fui a David por dolor de ciática y después del primer tratamiento noté mucha mejoría. David y el personal también son amables y la oficina está muy limpia. Fui. David y el personal son amables y la oficina está muy limpia.
(Original)
I went to David for sciatica pain and after only the first treatment I noticed a lot of improvement. David and the staff are friendly as well and the office is very clean. ??????????????????????????????????????????????????????????????
Aaron Covington (5)
(Traducido por Google) No suelo hacer revisiones pero tenía dolor en los nervios de la pierna derecha, posiblemente ciática. Cada sesión con David ayuda progresivamente. Aliviar este dolor ha sido nada menos que un cambio de vida. Altamente recomendado.
(Original)
I don't usually do reviews but I had nerve pain on my right leg, possibly sciatica. Every session with David help progressively. Relieving this pain has been nothing short of life changing. Highly recommend.
Suying Liu (5)
(Traducido por Google) Acudí por primera vez al Dr. Di en diciembre del año pasado por un hormigueo facial causado por el cabello húmedo dañado por el viento. Durante mi primera visita, el Dr. Di sacó un formulario para que lo completara y así obtener una comprensión completa de mi condición médica. Luego me realizó ventosas, tui na y acupuntura según mis necesidades. Mi entumecimiento facial se recuperó después del primer tratamiento. Como resultado de esta agradable y efectiva experiencia, volví al Dr. Di en abril de este año para un tratamiento de mi columna cervical y lumbar. El Dr. Di fue muy atento y responsable, y después del tratamiento me introdujo a los movimientos de rehabilitación que puedo practicar en casa. ¡Recomiendo encarecidamente al Dr. Di como médico de rehabilitación de medicina tradicional china y continuaré viéndolo antes de irme de Los Ángeles!
(Original)
I first came to Dr. Di in December of last year for facial tingling caused by wind-damaged wet hair. During my first visit, Dr. Di took out a form for me to fill out to get a full understanding of my medical condition. Then he performed cupping, tui na and acupuncture according to my needs. My facial numbness recovered after the first treatment. As a result of this pleasant and effective experience, I came back to Dr. Di in April of this year for treatment of my cervical and lumbar spine. Dr. Di was very attentive and responsible, and after the treatment, he introduced me to rehabilitation movements that I can practice at home. I highly recommend Dr. Di as a TCM rehab doctor and will continue to see him before I leave Los Angeles!
Las anteriores son opiniones que los usuarios han dejado en el sitio de google maps del local.
No nos hacemos responsables de dichas opiniones.
Ver mas información del centro en internet  David Di AcupunctureLos Ángeles, California, EE. UU.
Horario y dias de apertura :
martes, De 9:00 a 18:00; miércoles, De 9:00 a 18:00; jueves, Cerrado; viernes, De 9:00 a 18:00; sábado, De 9:00 a 16:00; domingo, Cerrado; lunes (Labor Day), De 9:00 a 18:00, El horario podría cambiar

En el mapa pulse : Como llegar , para que el mapa le muestre el camino , desde su ubicación
ver el mapa en otra pagina pulse aqui .
Vea Clínica de acupuntura, en esta provincia .
Vea Clínica de acupuntura, cerca de usted .
Actualizar información de esta pagina , añada la nueva informacion en la parte inferior de esta pag. , en el apartado deja una respuesta, con su nombre y correo reales, no nos escriba un email nosotros no actualizamos la información »
Busqueda de otras Clínica de acupuntura en distintas localidades
Ejemplo de busquedas
– Clínica de acupuntura : para buscar todas las Clínica de acupuntura en Los Ángeles, California, EE. UU..
– Clínica de acupuntura David Di Acupuncture: buscar Clínica de acupuntura con ese nombre.
  Clínica de acupuntura