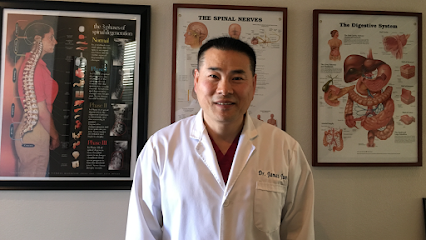 Clínica de acupuntura
Dr. James Acupuncture
Dirección
1712 Brodea Ln, Rocklin, CA 95765, Estados Unidos
Ciudad : Rocklin, California, EE. UU.
Provincia :Estados Unidos
Pagina web :
Telefono : +1 916-677-9818
email :
Valoración por los usuarios de google maps : 5,0
Cantidad de opiniones de los usuarios de google maps :15
Opiniones de los usuarios de google maps :
Cheryl Beach (5)
(Traducido por Google) ¡Amo a este grupo de personas! La oficina está limpia y desinfectada. Le toman la temperatura a su llegada y hay desinfectante de manos en el escritorio. Todas las cosas importantes en este momento de la pandemia.…
Mazyar Daneshgar (5)
(Traducido por Google) El Dr. James y su equipo son geniales. Hicieron todo lo posible para solucionar el problema. Tenía dolor en la parte baja de la espalda y en la pierna derecha debido a la ciática. El dolor fue de hasta 10 en un momento antes de ver al Dr. James y no podía moverme. Lo tuve por más de un mes cuando finalmente decidí encontrarme con una acupuntura. Visité al Dr. James dos veces y luego me sentí bien para volver a mi vida normal. Me gustaría agradecer al Dr. James y su equipo. Muy recomendable.
(Original)
Dr James and his team are great. They went above and beyond to take care of the issue. I had pain on my lower back and right leg due to sciatic. The pain was up to 10 at one point before I see Dr James and I was unable to move. Had it for over a month when I finally decided to meet an acupuncture. I visited Dr James two times and then I feel I am good to go back to my normal life. I would like to thank Dr James and his team. Highly recommended.
Susan Ford (5)
(Traducido por Google) Nunca había considerado la acupuntura para tratar mis dolores de espalda y piernas desde hace mucho tiempo. He usado todos los demás: fisioterapia, quiropráctica y manejo del dolor. En unas pocas visitas noté un gran alivio y finalmente dormí toda la noche. Recomiendo mucho al Dr. James. Pasa tiempo contigo y explica todo lo que hace y su plan para avanzar hacia el bienestar. Simplemente lo mejor. Recomiendo mucho sus servicios.
(Original)
I had never considered acupuncture to treat my long standing low back and leg pains. I have used all the others: physical therapy, chiropractic and pain management. Within a few visits I noticed a huge relief and was finally sleeping through the night. I highly recommend Dr. James. He spends time with you and explains everything he does and his plan moving forward for wellness. Simply the best. I'd highly recommend his services.
J S (5)
(Traducido por Google) El Dr. James es una bendición, es un practicante de acupuntura muy hábil y profesional y al mismo tiempo una persona muy social que te hace sentir cómodo con su presencia. Tengo un esguince en la muñeca durante más de un mes, pero después de ir a él, estaba mejorando y ahora el dolor casi ha desaparecido. Mi esposa también tenía dolor de pms pero se fue después de la visita. En general, muy satisfecho y un nuevo creyente en el tratamiento de la acupuntura.
(Original)
Dr James is godsend, he is a very skillful and professional acupuncture practitioner and at the same time very social person making you feel comfortable with his presence. I have a sprain wrist for over a month but after going to him, it was getting better and now the pain is almost gone. My wife also had pms pain but it went away after the visit. Overall very satisfied and a new believer in acupuncture treatment.
JR Reve (5)
(Traducido por Google) El Dr. James definitivamente te informa y educa sobre lo que hace la acupuntura y la verdad versus el mito. Siento alivio en cada visita debido a una lesión, me siento muy relajado y aliviado del dolor. Muy acogedor cuando llegué y cómodo hablando de problemas de dolor, el Dr. James y su esposa definitivamente tienen un gran corazón con su trabajo.
(Original)
Dr. James definitely informative and educate you what acupuncture does and the truth versus the myth. I do feel relieve every visit due to injury, I feel very relax and relieved from the pain. Very welcoming when I arrived and comfortable discussing pain issues, Dr. James and wife definitely have a big heart with their work.
dinh ma (5)
(Traducido por Google) El Dr. James es increíble, solía estar muy cansado y tener migraña de cabeza debido al clima frío o al viento, pero solo unas pocas sesiones de tratamiento ya se han ido. El color de mi piel también ha mejorado, es menos cansado y más vibrante. ¡Gracias Dr. James! 🙂
(Original)
Dr James is awesome, I used to be very tired and have bad head migraine due to cold weather or wind but just a few sessions of treatment it is now gone. My skin color complexion has also improved, less tired and more vibrant. Thank you Dr James! 🙂
Theresa Prestedge (5)
(Traducido por Google) El enfoque del Dr. James con respecto a la acupuntura no es solo brindar alivio a las dolencias, sino también educarlo como paciente sobre cómo realizar pequeños cambios que con el tiempo tendrán un impacto duradero. ¡Lo recomiendo altamente!
(Original)
Dr. James$0027s approach to acupuncture is not only to provide relief from ailments, but to educate you as a patient on how to make small changes that over time will have a lasting impact. I highly recommend him!
maria salgado (5)
(Traducido por Google) Me está ayudando mucho y es un buen doctor James. Se lo recomendé a otras personas y familiares. Gracias doctor por su arduo trabajo en equipo y por ayudarme a sentirme mucho mejor. Gracias por contar lo que tenía, gracias nuevamente por todo y su trabajo en equipo.
(Original)
He is helping me A lot and he is a good doctor James. I recommended it to other people and family.Thank you doctor for you hard teamwork and for helping me feel a lot better. Thank for telling what I had.Thank you again for everything and your teamwork.??
Terri Roberts (5)
(Traducido por Google) Nunca pensé que probaría la acupuntura porque le tengo miedo a las agujas. He visitado al Dr. James varias veces y estoy satisfecho con su trabajo.
Volvería!
(Original)
I never thought I would try acupuncture because I am afraid of needles. I have been to see Dr James a few times now and I am pleased with his work.
I would go back!
Connie Dula (5)
(Traducido por Google) He notado una diferencia significativa en mi sueño. ¡Gracias Dr. James, eres increíble! ¡Espero continuar los tratamientos y mejorar!
(Original)
I$0027ve noticed a significant difference in my sleep. Thank you Dr. James, you are awesome!! I look forward to continued treatments and getting better!
John Wally Cabanas (5)
(Traducido por Google) ¡Diré que mi experiencia con el Dr. James fue muy buena! él cuida de tu bienestar!
(Original)
i will say that my experience with Dr James was very good ! he looks out for your well being !
Natalya Boyko (5)
(Traducido por Google) Me siento mejor después de visitar esa oficina.
(Original)
I feel more better after visiting that office
T i t u s (5)
(Traducido por Google) ¡Es un practicante extremadamente eficiente y bien informado!
(Original)
He is an extremely efficient and knowledgeable practitioner!
Hunter (5)
Rosaura Delgado (5)
Las anteriores son opiniones que los usuarios han dejado en el sitio de google maps del local.
No nos hacemos responsables de dichas opiniones.
Ver mas información del centro en internet  Dr. James AcupunctureRocklin, California, EE. UU.
Horario y dias de apertura :
martes, De 9:00 a 18:00; miércoles, De 9:00 a 18:00; jueves, De 9:00 a 18:00; viernes, De 9:00 a 18:00; sábado, De 9:00 a 18:00; domingo, De 9:00 a 18:00; lunes (Labor Day), De 9:00 a 18:00, El horario podría cambiar

En el mapa pulse : Como llegar , para que el mapa le muestre el camino , desde su ubicación
ver el mapa en otra pagina pulse aqui .
Vea Clínica de acupuntura, en esta provincia .
Vea Clínica de acupuntura, cerca de usted .
Actualizar información de esta pagina , añada la nueva informacion en la parte inferior de esta pag. , en el apartado deja una respuesta, con su nombre y correo reales, no nos escriba un email nosotros no actualizamos la información »
Busqueda de otras Clínica de acupuntura en distintas localidades
Ejemplo de busquedas
– Clínica de acupuntura : para buscar todas las Clínica de acupuntura en Rocklin, California, EE. UU..
– Clínica de acupuntura Dr. James Acupuncture: buscar Clínica de acupuntura con ese nombre.
  Clínica de acupuntura