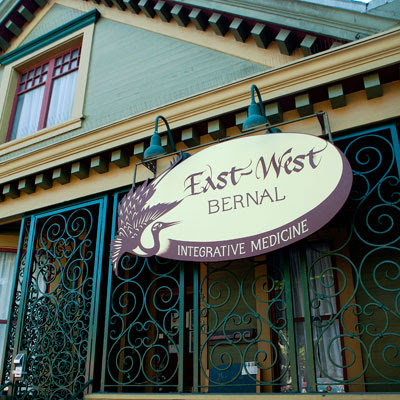 Clínica de acupuntura
East-West Integrative Medicine Clinic
Dirección
406 Cortland Ave #5538, San Francisco, CA 94110, Estados Unidos
Ciudad : Holly Park, San Francisco, California, EE. UU.
Provincia :Estados Unidos
Pagina web :
Telefono : +1 415-585-1990
email :
Valoración por los usuarios de google maps : 4,8
Cantidad de opiniones de los usuarios de google maps :15
Opiniones de los usuarios de google maps :
Gina (5)
(Traducido por Google) He estado viendo a Shannon en East-West en Bernal Heights constantemente y he tenido experiencias fantásticas. Recomiendo la acupuntura para aquellos que no han encontrado soluciones para la medicina occidental…
Andrew C (5)
(Traducido por Google) He estado asistiendo a Medicina Integrativa Este-Oeste para recibir acupuntura durante aproximadamente un año. Tienen excelentes practicantes en 4 lugares diferentes, incl. East Bay. ¡Veo a Antonella Soldaini, a quien considero una Maestra Acupunturista!
(Original)
I$0027ve been going to East-West Integrative Medicine for acupuncture for about a year. They have excellent practitioners at 4 different locations, incl. the East Bay. I see Antonella Soldaini, who I consider a Master Acupuncturist!
Carrie Paff (5)
(Traducido por Google) ¡Los servicios de acupuntura y masajes en East West están fuera de este mundo! Terapeutas increíblemente talentosos y amables. No puedo recomendarlos lo suficiente. Marnie es realmente algo especial.
(Original)
The acupuncture and massage services at East West are out of this world! Unbelievably talented and kind therapists. I can't recommend them enough. Marnie is really something special.
Christopher Wood (5)
(Traducido por Google) Shannon es increíble y cada vez me siento realmente atenta. Los brotes del túnel carpiano han estado totalmente bajo control con la acupuntura que recibo aquí y se los recomendaría a cualquiera. ¡Ideal para el estrés también!
(Original)
Shannon is amazing and every time I feel really cared for. My carpal tunnel flare ups have been totally under control with the acupuncture I get here and I$0027d recommend them/her to anyone. Great for stress too!
C (5)
(Traducido por Google) Empezó a ir aquí por la acupuntura después de mi túnel carpiano se iluminó mi nervio mediano. Shannon tenía la espalda la mano a la normalidad después de sólo dos sesiones, cuando literalmente nada más vino cerca de trabajo. He seguido yendo para alta ansiedad y el estrés. Estoy muy agradecido de tener la espalda vida.
(Original)
Started going here for acupuncture after my carpal tunnel lit up my median nerve. Shannon had my hand back to normal after only two sessions when literally NOTHING else came close to working. I$0027ve continued going for high anxiety and stress. I$0027m truly grateful to have my life back.
Mlvl L (5)
(Traducido por Google) «Stephanie» en 406 Cortland Ave. Es absolutamente intuitivamente precisa. Es maravillosa, articulada, acupunturista que obtiene las áreas correctas y realiza increíbles cambios de energía fácilmente sin esfuerzo. Estoy muy satisfecho y feliz, ella es genial. Es una atmósfera relajante, gran diseño y sereno para cualquier modalidad de trabajo y liberación de energía, curación y rejuvenecimiento. Puede acomodar a los nuevos entusiastas que no han tenido acupuntura antes y a aquellas almas mayores que solo necesitan un impulso rejuvenecido. Agradezco su experiencia y resultados.
(Original)
«Stephanie» at 406 Cortland Ave. Is absolutely intuitively accurate.She is wonderful, articulate, accupuncturist who gets the right areas and works amazing energy shifts easily effortlessly. I am very satisfied and happy she is great. It$0027s a soothing atmosphere, great design and serene for any modality un energy work and release, healing and rejuvenation. It can accommodate the new enthusiasts who haven$0027t had accupuncture before and those older souLS who just need a rejuvenated boost. I appreciate her expertise and results.
Tori Fulkerson-Jones (5)
(Traducido por Google) Recomiendo encarecidamente a Chris Robertson para masaje profundo de tejidos / deportes. Combina creativamente técnicas de una variedad de prácticas junto con su propio enfoque único para brindar una sesión excepcionalmente curativa y restauradora cada vez. Chris es el mejor!
(Original)
Highly recommend Chris Robertson for deep tissue/sports massage. He creatively combines techniques from a variety of practices along with his own unique approach to give an exceptionally healing and restorative session each time. Chris is the best!
Saadiyah Smith (5)
(Traducido por Google) Si está buscando una red de salud y no tiene una referencia de boca en boca, tenemos una, este es uno de los mejores lugares en los que he estado, con la excepción del Dr. Ted Li, si es inteligente, afroeuropeo, nativo americano, aléjese para él es horrible, es el único manchado en esta impresionante red de Dres. Son predominantemente asiáticos pero son muy acogedores y hospitalarios.
(Original)
If your looking for a health network and you don't have a word of mouth reference we'll you have one this is one of the best places I've ever been with the exception of Dr Ted Li if you are intelligent AfroEuropeanNativeAmerican stay away from him he's horrendous he's the only tarnish on this awesome network of Drs. It's predominantly Asian but they are very welcoming and hospitable
Phil Balistrieri (5)
(Traducido por Google) Maravillosa experiencia por todos lados. Lo más importante es que los tratamientos han sido beneficiosos para mi salud y bienestar.
(Original)
Wonderful experience all around. Most importantly, the treatments have been beneficial to my health and well being.
Shane O$0027Neill (5)
(Traducido por Google) Fantástico masaje con Tom.Espero volver y me siento genial tres días después.
(Original)
Fantastic massage with Tom I look forward to coming back still feel great three days later
Sujan Gautam (2)
(Traducido por Google) Buen concepto … Sin embargo, no fue útil para mí.
(Original)
Nice concept.. However it was not helpful to me.
Stephanie Nuttman (5)
(Traducido por Google) Amo este lugar
(Original)
Love this place
Sushma Shukla (5)
Jaclyn Sloan (5)
Brook (5)
Las anteriores son opiniones que los usuarios han dejado en el sitio de google maps del local.
No nos hacemos responsables de dichas opiniones.
Ver mas información del centro en internet  East-West Integrative Medicine ClinicHolly Park, San Francisco, California, EE. UU.
Horario y dias de apertura :
martes, De 9:00 a 20:00; miércoles, De 9:00 a 20:00; jueves, De 9:00 a 20:00; viernes, De 9:00 a 20:00; sábado, De 9:00 a 20:00; domingo, De 9:00 a 20:00; lunes (Labor Day), De 9:00 a 20:00, El horario podría cambiar

En el mapa pulse : Como llegar , para que el mapa le muestre el camino , desde su ubicación
ver el mapa en otra pagina pulse aqui .
Vea Clínica de acupuntura, en esta provincia .
Vea Clínica de acupuntura, cerca de usted .
Actualizar información de esta pagina , añada la nueva informacion en la parte inferior de esta pag. , en el apartado deja una respuesta, con su nombre y correo reales, no nos escriba un email nosotros no actualizamos la información »
Busqueda de otras Clínica de acupuntura en distintas localidades
Ejemplo de busquedas
– Clínica de acupuntura : para buscar todas las Clínica de acupuntura en Holly Park, San Francisco, California, EE. UU..
– Clínica de acupuntura East-West Integrative Medicine Clinic: buscar Clínica de acupuntura con ese nombre.
  Clínica de acupuntura