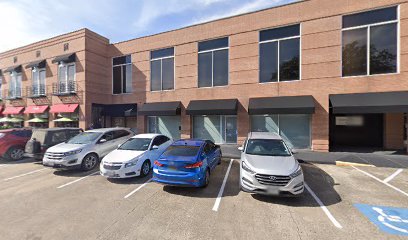 Clínica de acupuntura
Houston Acupuncture Center
Dirección
2202 W Alabama St C, Houston, TX 77098, Estados Unidos
Ciudad : Greenway/Upper Kirby, Houston, Texas, EE. UU.
Provincia :Estados Unidos
Pagina web :
Telefono : +1 832-548-0131
email :
Valoración por los usuarios de google maps : 5,0
Cantidad de opiniones de los usuarios de google maps :7
Opiniones de los usuarios de google maps :
Tami Head (5)
(Traducido por Google) He estado recibiendo tratamientos de acupuntura de Olga durante varios meses. Mi experiencia ha sido muy positiva y ella me ha ayudado con varias áreas de dolor en mi cuerpo. Junto con algunas hierbas chinas ocasionales, intercaladas con la acupuntura, he tenido un gran éxito. Veo a Olga un promedio de una vez cada 3 semanas. Ella es muy profesional y hábil. Olga también es una persona maravillosa para hablar. Ella es muy cariñosa y sabe qué tratamiento funcionará en mis áreas particulares de dolor. Seguiré viendo a Olga según sea necesario, porque estoy extremadamente feliz con mi salud en general. He visto a varios médicos, pero para el tratamiento del dolor, el tratamiento de Olga no solo es exitoso, sino que prefiero usar técnicas naturales, que considero más saludables para mi cuerpo. La recomiendo mucho.
(Original)
I have been receiving acupuncture treatments from Olga for several months. My experience has been very positive and she has helped me with several areas of pain in my body. Along with occasional Chinese herbs, interspersed with the acupuncture, I have had great success. I see Olga an average of once every 3 weeks. She is very professional and skillful. Olga is also a wonderful person to talk to. She is very caring and knows which treatment will work on my particular areas of pain. I will continue to see Olga as necessary, because I am extremely happy with my overall health. I have seen several doctors, yet for the pain management, Olga$0027s treatment is not only successful, but I prefer to use natural techniques, which I consider healthier for my body. I recommend her highly.
Lora Ung (5)
(Traducido por Google) Recomendaría el Centro de Acupuntura de Houston a cualquiera que busque una forma efectiva y natural de sanar el cuerpo. Olga me ha tratado tanto por migrañas como por infecciones sinusales. Los resultados han sido sorprendentes. Además de la acupuntura, me recomendaron diferentes hierbas para facilitar el proceso de curación. ¡Mi experiencia con Olga ha sido maravillosa!
(Original)
I would recommend Houston Acupuncture Center to anyone seeking an effective, natural way to heal the body. Olga has treated me for both migraines and sinus infections – The results have been amazing. In addition to acupuncture, I was recommended different herbs to facilitate the healing process. My experience with Olga has been wonderful!
Chad Carroll (5)
(Traducido por Google) ¡Olga es increíble! Si tienes dudas sobre el poder de la acupuntura, ella las borrará. Su oficina es exclusiva y muy profesional. Ella está muy bien educada y realmente se preocupa por el bienestar de sus clientes. Es obvio que ama su trabajo porque siempre tiene una sonrisa en su rostro.
(Original)
Olga is amazing! If you have any doubts about the power of acupuncture she will erase them. Her office is upscale and very professional. She is very well educated and truly cares about the well being of her clients. It's obvious that she loves her job because she always has a smile on her face.
Richard Wolfe (5)
(Traducido por Google) Olga es muy amable, conocedora y atenta. He estado yendo semanalmente por un tiempo y he tenido una mejora significativa en mis problemas musculares. Con mucho gusto la recomendaría a cualquiera que tenga problemas con los que la acupuntura pueda ayudar. Personal amable también.
(Original)
Olga is very nice, knowledgeable and attentive. I$0027ve been going weekly for a while now and have had significant improvement in my muscular issues. I would gladly refer her to anyone experiencing any issues that acupuncture can help with. Friendly staff as well.
Trip Milliet (5)
(Traducido por Google) Me diagnosticaron la enfermedad de Parkinson hace 4 años. Tengo 61 años La medicina tradicional para la enfermedad realmente bajó mi nivel de energía. Al investigar métodos de tratamiento para el Parkinson, me encontré con un artículo en una revista médica china sobre el tratamiento del Parkinson con acupuntura y hierbas naturales. Compartí el artículo con la Dra. Olga y ella comenzó el tratamiento. Ella dejó en claro que su tratamiento no curaría la enfermedad, pero que nuestro objetivo sería frenar los temblores y darme más energía. Comencé el tratamiento en febrero de 2014, tomando hierbas diariamente y acupuntura una vez cada 2 semanas. He descubierto que los tratamientos me han dado más energía y los temblores no han aumentado. La Dra. Olga Rodziyevska es genial. Antes de cada tratamiento, pasa tiempo haciéndome preguntas sobre mi salud y mi progreso. Ella es una persona muy cariñosa. La recomendaría
(Original)
I was diagnosed with Parkinson$0027s disease 4 years ago. I am 61 years old. Traditional medicine for the disease really lowered my energy level. In researching methods of treatment for Parkinson$0027s I came across an article in a Chinese medical journal regarding treatment of Parkinson$0027s with acupuncture and natural herbs. I shared the article with Dr. Olga and she began treatment. She made it clear that her treatment would not cure the disease but that our goal would be to slow the tremors and give me more energy. I began treatment in February 2014, taking herbs daily and acupuncture once every 2 weeks. I have found the treatments have given me more energy and the tremors have not increased. Dr. Olga Rodziyevska is great. Before every treatment she spends time asking me questions regarding my health and progress. She is a very caring person. I would recommend her.
Abe S (5)
(Traducido por Google) Después de unas pocas semanas de alergias graves provocadas por una vacuna contra la gripe, y medicamentos de venta libre que tuvieron un éxito marginal … Decidí evitar a mi médico de cabecera y buscar un tratamiento natural alternativo. Esto me llevó a la acupuntura con Olga. Después de la primera sesión, sentí una mejoría notable con mis síntomas y, en la sesión de seguimiento, la semana siguiente, mis síntomas desaparecieron. Espero que esta revisión ayude a cualquier persona cansada de ser drogada por medicamentos OTC o antibióticos para probar la acupuntura y sentir el mismo alivio que yo.
(Original)
After a few weeks of bad allergies triggered by a flu shot, and over the counter medication having marginal success… I decided to bypass my GP and seek alternative natural treatment. This lead me to acupuncture with Olga. After the first session I felt noticeable improvement with my symptoms and by the followup session the next week my symptoms were gone. I hope this review helps anyone tired of being drugged by OTC meds or antibiotics to try acupuncture and feel the same relief I did.
Patrick Garboden (5)
(Traducido por Google) El Centro de Acupuntura de Houston tiene una energía muy positiva gracias a su apariencia ultra limpia y su diseño interior eficiente. El propietario y el personal son excepcionalmente amables y profesionales. Su objetivo es dirigirse a cada persona en su conjunto y no por un solo síntoma y lo han demostrado conmigo. De especial interés es Olga Rodziyevska, L.Ac. Olga es la profesional consumada que trabaja diligentemente para brindar soluciones a las necesidades individuales.
(Original)
Houston Acupuncture Center has a very positive energy from it$0027s ultra clean appearance and efficient interior design. The owner and staff are exceptionally friendly and professional. Their goal is to address each person as a whole and not for a single symptom and they have demonstrated that with me. Of special note is Olga Rodziyevska, L.Ac. Olga is the consummate professional that works diligently to provide solutions to individual needs.
Las anteriores son opiniones que los usuarios han dejado en el sitio de google maps del local.
No nos hacemos responsables de dichas opiniones.
Ver mas información del centro en internet  Houston Acupuncture CenterGreenway/Upper Kirby, Houston, Texas, EE. UU.
Horario y dias de apertura :
martes, De 10:00 a 18:00; miércoles, Cerrado; jueves, De 10:00 a 18:00; viernes, Cerrado; sábado, Cerrado; domingo, Cerrado; lunes (Labor Day), Cerrado, El horario podría cambiar

En el mapa pulse : Como llegar , para que el mapa le muestre el camino , desde su ubicación
ver el mapa en otra pagina pulse aqui .
Vea Clínica de acupuntura, en esta provincia .
Vea Clínica de acupuntura, cerca de usted .
Actualizar información de esta pagina , añada la nueva informacion en la parte inferior de esta pag. , en el apartado deja una respuesta, con su nombre y correo reales, no nos escriba un email nosotros no actualizamos la información »
Busqueda de otras Clínica de acupuntura en distintas localidades
Ejemplo de busquedas
– Clínica de acupuntura : para buscar todas las Clínica de acupuntura en Greenway/Upper Kirby, Houston, Texas, EE. UU..
– Clínica de acupuntura Houston Acupuncture Center: buscar Clínica de acupuntura con ese nombre.
  Clínica de acupuntura