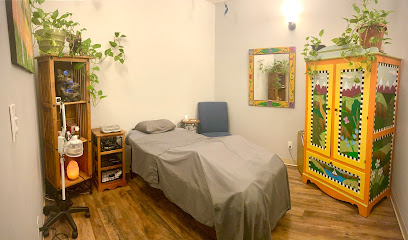 Clínica de acupuntura
Moonlight Garden Acupuncture
Dirección
2749 Iris Ave, Boulder, CO 80304, Estados Unidos
Ciudad : Boulder, Colorado, EE. UU.
Provincia :Estados Unidos
Pagina web :
moonlightgardenacupuncture.com
Telefono : +1 720-829-3632
email :
Valoración por los usuarios de google maps : 5,0
Cantidad de opiniones de los usuarios de google maps :44
Opiniones de los usuarios de google maps :
Gabriella Lynn (5)
(Traducido por Google) ¡He recibido mucha acupuntura a lo largo de los años y nada se compara con la curación de acupuntura de Rachael! ¡He sido un cliente semanal durante más de un año y cada visita es una experiencia mágica! Rachael ofrece sesiones regulares de acupuntura (hable sobre lo que necesita, coloque agujas, relájese) y también ofrece sesiones «Plus» que son absolutamente increíbles. Ella hará un tratamiento de acupuntura frontal y posterior, un masaje de cabeza y cuello, ventosas, trabajo energético, etc. ¡Es una experiencia transformadora y muy asequible! ¡Recomiendo encarecidamente que le des una visita!
(Original)
I$0027ve received a lot of acupuncture over the years and nothing compares to Rachael$0027s acupuncture healing! I$0027ve been a weekly client for over a year now, and every visit is a magical experience! Rachael offers regular acupuncture sessions (discuss what you need, place needles, relax), and she also offers «Plus» sessions that are absolutely amazing. She will do front and back acupuncture treatment, a head and neck massage, cupping, energy work, etc. It$0027s a transformative experience and very affordable! Highly recommend you give her a visit!
Aneka Van Hansen (5)
(Traducido por Google) Rachel es completamente un regalo del cielo. Cuando digo que me salvó la vida no exagero. También está totalmente dedicada a sus clientes y mejora constantemente su práctica. Nunca escribo reseñas pero la recomiendo con la mayor sinceridad.
(Original)
Rachel is a completely godsend. When I say she saved my life I am not exaggerating. She is also wholly dedicated to her clients and is constantly improving her practice. I never write reviews but I recommend her with the utmost sincerity.
kristine Pearson (5)
(Traducido por Google) ¡Mi experiencia con Rachael fue más que genial! Me sentí muy escuchado y atendido. En el pasado, una vez que se colocaban las agujas, me dejaban solo en la habitación, pero Rachel me masajeaba el cuello cuando colocaban las agujas en la parte delantera de mi cuerpo, luego, cuando estaba acostado boca abajo … recibí unas ventosas. Esta fue una experiencia enriquecedora y muy útil para atender mis necesidades. Ella también pudo explicar el enfoque de tratamiento específico que tiene una gran claridad y comprensión de mi experiencia. ¡¡Y me sentí mejor después !! ¡Mi dolor de cuello había desaparecido y hasta ahora no tengo dolores de cabeza! Esperando mis futuras citas. ¡Gracias Rachael!
(Original)
My experience with Rachael was beyond great! I felt very heard and attended to. In past, once needles were placed, i was left alone on the room, but Rachel did some neck massage when needles were placed on the front of my body, then when I was lying on my stomach…I received some cupping. This was a rich experience and very helpful in addressing my needs. She was also able to explain the specific treatment approach which have great clarity and understanding to my experience. And I felt better after!! My neck pain was gone and so far no headaches! Looking forward to my future appointments. Thank you Rachael!
Brynn Lawrence (5)
(Traducido por Google) Veo a Racheal cada dos semanas, incluso si no tengo nada que hacer. ¡Siempre salgo de mis citas sintiéndome feliz y lleno de energía! No puedo recomendarla lo suficiente
(Original)
I see Racheal every other week even if I don't have anything going on. I always leave my appointments feeling happy and energized! Can't recommend her highly enough
Stacey Sickler (5)
(Traducido por Google) Rachael es una absoluta delicia! Está claro que ella sabe sus cosas, pero también es increíblemente amable y tenemos una conversación divertida. Definitivamente se preocupa por la salud de las personas, se nota cada vez que la veo. Ella me trató por gripe, dolor de espalda, piernas inquietas, aumento de la inmunidad, y también me consiguió algunas hierbas. ¡Se mudará a una habitación más grande para tener más hierbas y otras cosas para tener a mano! La recomiendo mucho si estás buscando un acupunturista en el área.
(Original)
Rachael is an absolute delight! It$0027s clear she knows her stuff, but she$0027s also incredibly kind and we have fun conversation. She definitely cares about peoples$0027 health – it shows every time I see her. She$0027s treated me for the flu, back pain, restless legs, boosting immunity, and also got me some herbs. She is moving to a bigger room so she$0027ll have more herbs and other goodies to have on hand! I highly recommend her if you$0027re looking for an acupuncturist in the area.
stacey pedersen (5)
(Traducido por Google) He estado en muchos acupunturistas en los últimos 15 años, ¡y Rachael es, con mucho, el mejor! He sentido y visto resultados increíbles, a menudo bastante rápido después de cada tratamiento. Realmente le importa, y se toma el tiempo de explorar realmente cada aspecto de lo que esté sucediendo ese día. Siempre espero mis citas con ella, ¡y estoy muy contenta de que ahora esté en mi equipo de atención médica!
(Original)
I have been to many acupuncturists over the last 15 years, and Rachael is by far the best! I have felt and seen incredible results, often quite quickly after each treatment. She really cares, and takes the time to really explore every aspect of whatever is going on that day. I always look forward to my appointments with her, and I am so glad she is on my health care team now!
Allie Chipkin (5)
(Traducido por Google) Rachael es muy minucioso, atento y conocedor. Literalmente siempre salgo de su oficina sintiéndome más equilibrada, relajada y rejuvenecida. Ella es un regalo del cielo. La he estado viendo varias veces a la semana por sueño y ansiedad, y ella ha hecho maravillas por mí. Estoy muy agradecido de haberla encontrado. Rachael siempre hará un esfuerzo adicional (ya sea con masajes, hierbas, ventosas, más acupuntura, lecturas de i-Ching, libros de préstamo) para ayudar a sus pacientes a sanar. No puedo recomendarla lo suficiente 🙂
(Original)
Rachael is so thorough, thoughtful, and knowledgeable. I literally always leave her office feeling more balanced, relaxed, and rejuvenated. She is a godsend. I have been seeing her several times a week for sleep and anxiety, and she has done wonders for me. I am so grateful to have found her. Rachael will always go the extra mile (be it with massage, herbs, cupping, more acupuncture, i-Ching readings, lending books) to help her patients heal. I cannot recommend her highly enough 🙂
Allison Caw (5)
(Traducido por Google) Rachel es una curandera intuitiva y de gran talento y la mejor acupunturista con la que he trabajado. Ella me ha apoyado a través de dificultades físicas y emocionales, dándole a mi cuerpo, corazón y mente más facilidad de ser. Ella es profundamente apasionada y está comprometida a servir a los demás, cuidando verdaderamente su bienestar. Ella es un tesoro y estoy muy agradecida de haberla encontrado. ¡Hazte un favor y reserva una sesión!
(Original)
Rachel is a highly gifted, intuitive healer and the best acupuncturist I have ever worked with. She has supported me through physical, and emotional hardships, giving my body, heart and mind more ease of being. She is deeply passionate and committed to serving others, truly caring for your wellbeing. She is a treasure and I am so grateful to have found her. Do yourself a favor and book a session!
Carolyn Huntsman (5)
(Traducido por Google) Ni siquiera puedo expresar lo agradecida y feliz que estoy por tener a Rachel en mi vida. Estaba al final de mi cuerda tratando de averiguar cómo arreglar mis manos. Había intentado varias cosas … pensé que iba a tener que dejar mi trabajo y dejar de hacer todas las cosas divertidas que me hacen a mí. Gracias a Rachel y sus increíbles habilidades, he vuelto a hacer muchas cosas que me causaron mucho dolor. Rachel ha estado trabajando en la curación más que solo mis manos, ella está preocupada por la salud en general. Me siento como una nueva persona.
Sinceramente, no puedo decir lo suficiente sobre Rachel. La recomendaría altamente. Ella es una sanadora. Ella te hace sentir cómoda y está feliz de explicar su proceso. Rachel es tan compasiva y realmente quiere hacer que te sientas bien y te sientas bien.
Gracias Rachel por devolverme mi vida ?
(Original)
I can$0027t even express how grateful and happy I am to have Rachel in my life. I was at the end of my rope trying to figure out how to fix my hands. I had tried multiple things… thought I was going to have to quit my job and stop doing all of the fun crafty things that make me me. Thanks to Rachel and her amazing skills I$0027m back to doing a lot of things that caused me so much pain. Rachel has been working on healing more than just my hands, she is concerned with overall health. I feel like a new person.
I honestly can$0027t say enough good things about Rachel. I would highly recommend her. She is a healer. She makes you feel comfortable and is happy to explain her process. Rachel is so compassionate and truly wants to make you healthy and feel good!!!
Thank you Rachel for giving me my life back ?
Nancy Allawos (5)
(Traducido por Google) Rachel es una curandera increíblemente apasionada. Estoy muy agradecida cada vez que estoy en su mesa. Siempre me siento tan renovado y tranquilo después de una sesión. Ella tiene un poderoso toque suave con las agujas, y también hace un increíble qigong médico que es raro de encontrar y muy efectivo. ¡Bravo!
(Original)
Rachel is an amazingly passionate healer. I am so grateful every time I am on her table. I always feel so renewed and calm after a session. She has a powerfully gentle touch with the needles, and also does incredible medical qigong which is rare to find and very effective! Bravo!
Las anteriores son opiniones que los usuarios han dejado en el sitio de google maps del local.
No nos hacemos responsables de dichas opiniones.
Ver mas información del centro en internet  Moonlight Garden AcupunctureBoulder, Colorado, EE. UU.
Horario y dias de apertura :
martes, De 8:00 a 17:00; miércoles, De 8:00 a 15:00; jueves, De 8:00 a 18:00; viernes, De 8:00 a 17:00; sábado, Cerrado; domingo, Cerrado; lunes (Labor Day), De 8:00 a 17:00, El horario podría cambiar

En el mapa pulse : Como llegar , para que el mapa le muestre el camino , desde su ubicación
ver el mapa en otra pagina pulse aqui .
Vea Clínica de acupuntura, en esta provincia .
Vea Clínica de acupuntura, cerca de usted .
Actualizar información de esta pagina , añada la nueva informacion en la parte inferior de esta pag. , en el apartado deja una respuesta, con su nombre y correo reales, no nos escriba un email nosotros no actualizamos la información »
Busqueda de otras Clínica de acupuntura en distintas localidades
Ejemplo de busquedas
– Clínica de acupuntura : para buscar todas las Clínica de acupuntura en Boulder, Colorado, EE. UU..
– Clínica de acupuntura Moonlight Garden Acupuncture: buscar Clínica de acupuntura con ese nombre.
  Clínica de acupuntura