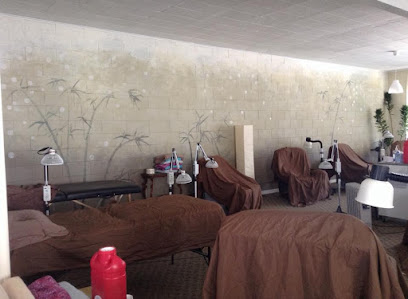 Clínica de acupuntura
Octagon Community Acupuncture Clinic
Dirección
5253 Claremont Ave, Oakland, CA 94618, Estados Unidos
Ciudad : Oakland, California, EE. UU.
Provincia :Estados Unidos
Pagina web :
Telefono : +1 510-595-1031
email :
Valoración por los usuarios de google maps : 5,0
Cantidad de opiniones de los usuarios de google maps :6
Opiniones de los usuarios de google maps :
Christoph Friedrich (5)
(Traducido por Google) Joe está muy bien informado y es amable con sus habilidades de acupuntura. Lo he estado viendo durante las últimas 4-5 semanas y puedo dar fe de una mejora gradual de mi eczema y estado de ánimo general. Es el lugar para acudir a la acupuntura en Oakland. Pruébelo.
(Original)
Joe is super knowledgeable and gentle with his acupuncture skills. I've been seeing him for the last 4-5 weeks and can attest to gradual improvement of my eczema and general mood. It's the place to go for acupuncture in Oakland. Try him out.
Areca H$0027lael Smit (5)
(Traducido por Google) He ido a Octahon semanalmente y dos veces por semana a veces. También han tomado miembros de la familia. Los practicantes son conocedores, atentos y bastante buenos. Te ven en un cómodo espacio abierto con alrededor de nueve sillones reclinables y dos mesas. El espacio hace que funcione bien y nunca me pareció incómodo que otros fueran tratados al mismo tiempo. El costo es más bajo de lo que imaginé que podría ser la acupuntura. Ven a las personas para todo, pero también son conocidos por ayudar a las parejas que intentan concebir.
(Original)
Have gone to Octahon weekly and twice-weekly at times. Have also taken family members. The practitioners are knowledgeable, caring and quite good. You$0027re seen in a comfortable open space with around nine recliners and two tables. The spacing makes it work fine and I never found it awkward that others were being treated at the same time. The cost is lower than I ever imagined acupuncture could be. They see people for everything, but are also known for helping couples trying to conceive.
Joan C (5)
(Traducido por Google) Me encanta ir aquí Gran servicio, y siempre me voy sintiéndome mucho mejor que cuando entré.
(Original)
I love going here. Great service, and I always leave feeling much better than when I walked in.
Sabina Galeana (5)
Nicole Marcotte Schultz (5)
Roni Krouzman (5)
Las anteriores son opiniones que los usuarios han dejado en el sitio de google maps del local.
No nos hacemos responsables de dichas opiniones.
Ver mas información del centro en internet  Octagon Community Acupuncture ClinicOakland, California, EE. UU.
Horario y dias de apertura :
martes, De 9:00 a 15:00; miércoles, De 13:00 a 15:00; jueves, De 9:00 a 15:00; viernes, De 10:00 a 17:00; sábado, De 9:00 a 12:00; domingo, Cerrado; lunes (Labor Day), De 12:00 a 16:00, El horario podría cambiar

En el mapa pulse : Como llegar , para que el mapa le muestre el camino , desde su ubicación
ver el mapa en otra pagina pulse aqui .
Vea Clínica de acupuntura, en esta provincia .
Vea Clínica de acupuntura, cerca de usted .
Actualizar información de esta pagina , añada la nueva informacion en la parte inferior de esta pag. , en el apartado deja una respuesta, con su nombre y correo reales, no nos escriba un email nosotros no actualizamos la información »
Busqueda de otras Clínica de acupuntura en distintas localidades
Ejemplo de busquedas
– Clínica de acupuntura : para buscar todas las Clínica de acupuntura en Oakland, California, EE. UU..
– Clínica de acupuntura Octagon Community Acupuncture Clinic: buscar Clínica de acupuntura con ese nombre.
  Clínica de acupuntura