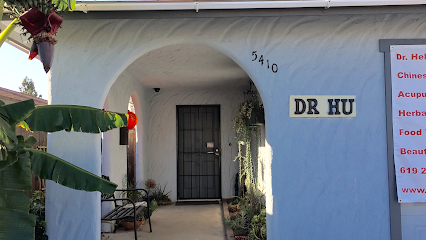 Clínica de acupuntura
Traditional Chinese Medicine Clinic
Dirección
5410 Lauretta St, San Diego, CA 92110, Estados Unidos
Ciudad : San Diego, California, EE. UU.
Provincia :Estados Unidos
Pagina web :
Telefono : +1 619-987-6506
email :
Valoración por los usuarios de google maps : 5,0
Cantidad de opiniones de los usuarios de google maps :5
Opiniones de los usuarios de google maps :
Tracy Davis (5)
(Traducido por Google) El Dr. Hu siempre ha podido ayudarme cuando y donde la medicina occidental me ha fallado. Aprendí mucho sobre nutrición y cómo cuidarme. Valoro su sabiduría y su querido corazón.
(Original)
Dr. Hu has always been able to help me when and where Western medicine has failed me. I learned a lot about nutrition and taking care of ME. I cherish her wisdom and dear heart.
Jonathan Colby (5)
(Traducido por Google) Me lastimé la espalda haciendo sentadillas en el gimnasio y recibí mi primer tratamiento de acupuntura de Helen hu. No me dolió, me sentí genial, y pude relajarme tanto que pude sentir el $0027chi$0027 o la energía o cualquier cosa sutil pero perceptible que sucedía en mi espalda. Funcionó y fue increíble. Me alegra encontrar un tratamiento y un profesional que se preocupe por reparar a sus pacientes lo antes posible.
(Original)
I had hurt my back doing squats in the Gym, and Got my first Acupuncture treatment from Helen hu. It Did not Hurt, it Felt Great, and I was able to relax so much that i could feel the $0027chi$0027 or energy or whatever subtle but perceptible occurrence that was going on in my back. It worked and it was amazing. I am glad to find a Treatment and a practitioner who cares about getting their patients fixed back up as fast as possible.
oneup008 (5)
(Traducido por Google) Tuve la oportunidad de visitar la clínica de la Dra. Hu varias veces y recibir tratamientos basados ??en su experiencia en medicina oriental y occidental. No encontrará un experto más profesional con su profundidad única de conocimiento en medicina que es claramente su pasión. Se tomó el tiempo para diagnosticar cuidadosamente, luego explicar mis problemas, elaboró ??un plan de tratamiento y luego mejoró y resolvió con éxito el problema a través de la acupuntura y los tratamientos herbales chinos personalizados. Las mezclas de hierbas pueden parecer inusuales, pero funcionaron.
El Dr. Hu no es un médico (MD) con licencia en los EE. UU. En ejercicio, tenga claro esto para los fines de su seguro, haga su debida diligencia, ya que las compañías de seguros se están volviendo más esquemáticas cada día. Sin embargo, estudió durante 6 años y obtuvo un título de médico en medicina occidental con especialización en cardiología de una universidad médica en China, y luego como directora de cardiología en el hospital donde trabajaba. Luego emigró a los Estados Unidos. Sus credenciales también incluyen el Examen Médico de Licencias de los Estados Unidos (USLME), la licenciatura como acupunturista (L.Ac), el Título Médico Oriental (OMD) y un Doctorado en Medicina Oriental. Todas sus licencias y títulos se muestran en la pared de la izquierda cuando ingresa a la clínica. El Dr. Hu también es autor de varios libros profesionales a la venta basados ??en tratamientos tradicionales chinos para la salud, la belleza y la longevidad. Son fáciles de leer y seguir, el precio no es económico, pero obtienes lo que pagas. Compré un juego.
La Dra. Hu le dirá que vaya al hospital para recibir tratamiento si cree que es mejor para usted. Esa es la diferencia entre alguien que tiene poca experiencia médica o alguien que está más interesado en su billetera. Su salud debe ser una prioridad, ¿por qué perder el tiempo si no?
Ah, y no dejes que la clínica que parece una casa por fuera te desanime, a menos que necesites ir a un edificio médico sin alma hecho de acero y ascensores. La clínica está en un área residencial / comercial aprobada y la casa fue rediseñada por dentro para recibir a los pacientes con una decoración tradicional china y música relajante.
Así que sí, cuando tuve tos crónica, me desgarré un músculo o tuve un problema de manejo del dolor crónico, fui al Dr. Hu para recibir consejo y tratamiento y salí mucho mejor.
(Original)
I have had the opportunity to visit Dr. Hu's clinic several times and receive treatments based on her expertise in eastern and western medicine. You will not find a more professional expert with her unique depth of knowledge in medicine that is clearly her passion. She took the time to carefully diagnose, then explain my issues, came up with a treatment plan and then successfully improve and resolved the problem through acupuncture and individual tailored Chinese herbal treatments. Herbal mixes can look unusual, but it worked.
Dr. Hu is not a practicing US licensed Medical Doctor (MD) be clear on this for your insurance purposes, do your due diligence, as insurance companies are getting sketchier by the day. However, she studied for 6 years and attained a Medical Degree in western medicine specializing in cardiology from a medical university in China, and later as Director of Cardiology at the hospital where she worked. She immigrated to the States afterwards. Her credentials also include the US Licensing Medical Exam (USLME), licensing as an acupuncturist (L.Ac), Oriental Medical Degree (OMD), and a Doctorate in Oriental Medicine. All of her licenses and degrees are displayed on the wall to the left as you enter the clinic. Dr Hu has also authored several for sale professional books based on traditional Chinese treatments for health, beauty and longevity. They are easy to read and follow, the price is not inexpensive but you kind of get what you pay for. I bought a set.
Dr Hu will tell you to go to the hospital for treatment if she thinks its best for you. That's the difference between someone who has little medical experience or someone who is more interested in your wallet. Your health should be a priority, why waste your time otherwise.
Oh and don't let the clinic that looks like a house on the outside put you off, unless you need to go to a soul less medical building made of steel and elevators. The clinic is in a residential/business approved area and the house was redesigned inside to welcome patients with traditional Chinese decor and soothing music.
So yes, when I have had a chronic cough, pulled a muscle, or had a chronic pain management issue I've gone to Dr Hu for advice and treatment and came away much better.
JennaMedvigy (5)
(Traducido por Google) ¡Helen hizo que mi primera experiencia con la acupuntura fuera extremadamente fácil y relajante! No soy fanático de las agujas y tenía miedo de probar este método de liberación de tensión (tenía dolor de cuello y hombros), pero después de esta experiencia puedo decir que lo volvería a hacer al 100%. Ella usa luces infrarrojas que ayudaron a calentar y relajar la parte superior de mi espalda rígida. El consultorio de Helen es mucho más cómodo que el ambiente habitual del consultorio del médico, lleno de bonitas plantas y decoración china en un entorno de oficina más «estilo casa». Disfruté especialmente el sonido de suaves campanillas de viento afuera mientras se realizaba mi tratamiento. Helen no solo es conocedora y amable, sino también muy profesional.
(Original)
Helen made my first acupuncture experience extremely easy and relaxing! I$0027m not a fan of needles and was scared to try this method of tension release (I had a sore neck and shoulders), but after this experience I can say I$0027d 100% do it again. She uses infrared lights which helped to warm and relax my stiff upper back. Helen$0027s office is much more comfortable than your usual stuffy doctor office setting, filled with pretty plants and Chinese decor in a more «house-style» type of office setting. I especially enjoyed the sound of gentle wind chimes outside while my treatment was happening. Helen is not only knowledgeable and kind, but also very professional.
Dr Helen Hu (5)
(Traducido por Google) Servir a nuestra comunidad con mis más de 30 años de experiencia en medicina y medicina china y con mi corazón y pasión.
(Original)
Serve our community with my over 30 years medical and Chinese medicine experience and with my heart and passion
Las anteriores son opiniones que los usuarios han dejado en el sitio de google maps del local.
No nos hacemos responsables de dichas opiniones.
Ver mas información del centro en internet  Traditional Chinese Medicine ClinicSan Diego, California, EE. UU.
Horario y dias de apertura :
martes, Cerrado; miércoles, De 10:00 a 17:30; jueves, Cerrado; viernes, De 10:00 a 17:30; sábado, De 10:00 a 13:00; domingo, Cerrado; lunes (Labor Day), De 10:00 a 17:30, El horario podría cambiar

En el mapa pulse : Como llegar , para que el mapa le muestre el camino , desde su ubicación
ver el mapa en otra pagina pulse aqui .
Vea Clínica de acupuntura, en esta provincia .
Vea Clínica de acupuntura, cerca de usted .
Actualizar información de esta pagina , añada la nueva informacion en la parte inferior de esta pag. , en el apartado deja una respuesta, con su nombre y correo reales, no nos escriba un email nosotros no actualizamos la información »
Busqueda de otras Clínica de acupuntura en distintas localidades
Ejemplo de busquedas
– Clínica de acupuntura : para buscar todas las Clínica de acupuntura en San Diego, California, EE. UU..
– Clínica de acupuntura Traditional Chinese Medicine Clinic: buscar Clínica de acupuntura con ese nombre.
  Clínica de acupuntura