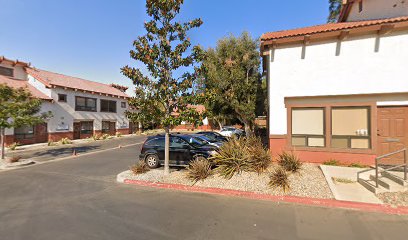 Acupuntor
Dr. Fred Siciliano, OMD, LAc, MH
Dirección
4482 Market St # 403, Ventura, CA 93003, Estados Unidos
Ciudad : Ventura, California, EE. UU.
Provincia :Estados Unidos
Pagina web :
Telefono : +1 805-654-8776
email :
Valoración por los usuarios de google maps : 4,5
Cantidad de opiniones de los usuarios de google maps :8
Opiniones de los usuarios de google maps :
Julio Ordaz (5)
Exelente
Michelle McMichael (5)
(Traducido por Google) El Dr. Fred me ha ayudado a través de la ciática, un ataque cardíaco y mucho más a través de su conocimiento de la curación a base de hierbas, la acupuntura y la acupresión. ¡Mi corazón está más fuerte que nunca y mi nivel de estrés ha desaparecido! ¡Confío en él más que cualquier otro médico! ¡Es un verdadero amigo para sus pacientes!
(Original)
Dr. Fred has helped me through sciatica, a heart attack, and so much more through his knowledge of herbal healing, acupuncture and acupressure. My heart is stronger than ever and my stress level has disappeared! I trust him more than any other doctor! He is a true friend to his patients!
Stephanie Butch (5)
(Traducido por Google) He sido paciente del Dr. Freds desde que era un adolescente y sufrí innumerables problemas gastrointestinales, así como traumas emocionales y trastorno de estrés postraumático. Es un verdadero SANADOR. Sus medicamentos son de la mejor calidad, su experiencia es incomparable.
(Original)
I have been a patient of dr freds since i was a teenager and suffered countless GI issues as well as emotional trauma and ptsd. Hes a true HEALER. His medicines are of the finest quality his expertise is beyond compare.
Charles Hill (5)
(Traducido por Google) El Dr. Fred es el ejemplo clásico de no juzgar un libro por la portada. Tiene más conocimiento y experiencia en su campo que cualquiera que haya conocido en años. Yo y toda mi familia confiamos en sus opiniones médicas con nuestras necesidades de atención médica, especialmente en el área de nutrición. Ha ayudado a mi hija que tenía diabetes no controlada a través de suplementos nutricionales y herbales equilibrados. Es el mejor que encontrarás en cualquier lugar. Pruébalo y no tendrás que ir a ningún otro lado cuando se trata de medicina alternativa. He recomendado sus hierbas a muchos, ninguno fue disatificado y sigo siendo cliente. Su conocimiento de la acupuntura supera a los médicos en el mismo campo.
Lástima que no tengamos más como él en todo el país.
(Original)
Dr. Fred is the classic example on not judging a book by the cover. He has more knowledge and experience in his field than anyone I have known in years. I and all of my family trust his medical opinions with our health care needs, especially in the area of nutrition. He has helped my daughter who had uncontrolled diabetes through balanced nutritian and herbal supplement. He$0027s the best you$0027 ll find anywhere. Give him a try and you won$0027t need to go anywhere else when it comes to alternative medicine. I have recommended his herbs to many, not one was dissatified and remain clients. His knowledge of acupuncture surpasses doctors in the same field.
Too bad we don$0027t have more like him throughout the country.
Sue Belzer (5)
(Traducido por Google) El Dr. Fred está bien informado y se portó muy bien. Es callado y reflexivo, minucioso y cuidadoso. Mucha experiencia, y tiene muchas opciones para resolver sus problemas.
(Original)
Dr. Fred is knowledgeable, and had a great manner. He$0027s quiet and thoughtful, thorough and careful. Lots of experience, and has many options to solve your problems.
Wicked24 (1)
(Traducido por Google) Fue enviado a recoger algunos medicamentos, las horas en línea dicen que son las 10 a. M. Cuando llamé a la puerta, quien estaba detrás de la puerta cerró la puerta. Golpeé un par de veces más antes de irme. Intenté llamar y me envió un mensaje de voz. Condujo todo el camino desde Camarillo y me dijeron que también abrieron a las 10 a. M.
(Original)
Was sent to pick up some medicine, hours online say 10 am. When I knocked at the door who ever was behind the door instead locked the door. I knocked a few more times before leaving. I tried calling and it goes to voicemail. Drove all the way from Camarillo and was told they opened at 10 am as well.
Chloe Keller (5)
(Traducido por Google) Fred es genial! Me ayudó con muchos de mis problemas.
(Original)
Fred is great! Helped me with a lot of my issues.
szanne perry (5)
Las anteriores son opiniones que los usuarios han dejado en el sitio de google maps del local.
No nos hacemos responsables de dichas opiniones.
Ver mas información del centro en internet  Dr. Fred Siciliano, OMD, LAc, MHVentura, California, EE. UU.
Horario y dias de apertura :
martes, De 13:00 a 18:00; miércoles, De 13:00 a 18:00; jueves, De 13:00 a 18:00; viernes, De 13:00 a 18:00; sábado, De 11:00 a 14:00; domingo, Cerrado; lunes (Labor Day), Cerrado, El horario podría cambiar

En el mapa pulse : Como llegar , para que el mapa le muestre el camino , desde su ubicación
ver el mapa en otra pagina pulse aqui .
Vea Acupuntor, en esta provincia .
Vea Acupuntor, cerca de usted .
Actualizar información de esta pagina , añada la nueva informacion en la parte inferior de esta pag. , en el apartado deja una respuesta, con su nombre y correo reales, no nos escriba un email nosotros no actualizamos la información »
Busqueda de otras Acupuntor en distintas localidades
Ejemplo de busquedas
– Acupuntor : para buscar todas las Acupuntor en Ventura, California, EE. UU..
– Acupuntor Dr. Fred Siciliano, OMD, LAc, MH: buscar Acupuntor con ese nombre.
  Acupuntor