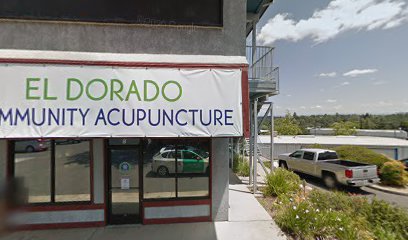 Clínica de acupuntura
El Dorado Community Acupuncture
Dirección
4068 Mother Lode Dr, Shingle Springs, CA 95682, Estados Unidos
Ciudad : Shingle Springs, California, EE. UU.
Provincia :Estados Unidos
Pagina web :
Telefono : +1 530-424-8654
email :
Valoración por los usuarios de google maps : 5,0
Cantidad de opiniones de los usuarios de google maps :18
Opiniones de los usuarios de google maps :
Kimberly Austin (5)
(Traducido por Google) He estado aquí varias veces. Tengo miedo de las agujas, así que esto realmente está saliendo de mi caja. Rosie es muy buena colocando las agujas. A veces los siento, pero realmente disfruto simplemente relajándome y estando quieto en su oficina. Me encanta la música clásica, y la silla es muy cómoda. Es un buen lugar para quedarse quieto y sentirse mejor. Mucho estacionamiento. Espero mis citas aquí.
(Original)
I have been here a few times. I am scared of needles so this is really going out of my box. Rosie is very good in placing the needles. I sometimes feel them, but I really enjoy just relaxing and being still in her office. I love the classical music, and the chair is very comfy. It is a good place to just be still, and feel better. Lots of parking. I look forward to my appointments here.
Sarah Foad (5)
(Traducido por Google) ¡Rosie es un poco hábil en lo que hace! Ella ha creado un espacio tan tranquilo y acogedor … sin mencionar que siempre me siento mucho mejor después de verla. ¡Altamente recomendado!
(Original)
Rosie is kinda and skilled at what she does! She has created such a calm and welcoming space… not to mention, I always feel so much better after seeing her. Highly recommend!
Rebekah Scher (5)
(Traducido por Google) Rosie era amable, capaz, conocedora, gentil, extremadamente competente, tranquilizadora y tenía un comportamiento muy tranquilizador. Realmente disfruté del ambiente suave y la música instrumental. Además, aprecié el enfoque más clínico de la acupuntura en lugar de promocionarlo como religioso. Debo decir que la acupuntura definitivamente puede ser un ejercicio religioso, pero me gustó que no se presentara exclusivamente como tal.
Era evidente que la gente se sentía cómoda en las capaces manos de Rosie, ¡e incluso me quedé dormido! Entré al tratamiento lleno de ansiedad y me fui sintiéndome mucho mejor. ¡Gracias Rosie! Volveré para recibir más tratamientos en el futuro y recomendaré a todos mis amigos y familiares para que la vean.
(Original)
Rosie was kind, capable, knowledgeable, gentle, extremely proficient, reassuring , and had a very calming demeanor. I really enjoyed the mellow environment and the instrumental music. Additionally, I appreciated the more clinical approach to acupuncture versus touting it as a religious one. I should say, acupuncture can definitely be a religious exercise, but I liked that it was not Presented exclusively as such.
People were obviously at ease in Rosie's capable hands, and I even fell asleep! I went into the treatment full of anxiety and left feeling much better. Thank you Rosie! I will be back for more treatments in the future, and will be referring all of my friends and family to see her.
Shelby Rugg (5)
(Traducido por Google) ¡Estoy agradecido de haber encontrado El Dorado Community Acupuncture!
Rosie es una acupunturista profesional capacitada que ofrece atención asequible y segura a nuestra comunidad en medio de la agitación de 2020. La tarifa de la escala móvil refleja verdaderamente el enfoque en la «comunidad» en la «acupuntura comunitaria». Me siento muy seguro durante mis citas con las precauciones de salud que se están tomando, incluida la desinfección, el distanciamiento social y el mantenimiento del uso correcto de la mascarilla.
(Original)
I am grateful to have found El Dorado Community Acupuncture!
Rosie is a skilled, professional acupuncturist offering affordable, safe care to our community amidst the turmoil of 2020.The sliding scale fee truly reflects the focus on «community» in «community acupuncture.» I feel very safe during my appointments with the health precautions being taken including sanitizing, social distancing and maintaining correct mask usage.
aztecanm RB (5)
(Traducido por Google) He venido a Rosie varias veces por diferentes problemas de cuello y espalda en los últimos 2 años, y cada vez que se han ido después de 1-2 sesiones en su tranquilo y sereno espacio de acupuntura. Es una hora tranquila y bien aprovechada para curarse. Ella ha descubierto por completo cómo ofrecer un ambiente cálido y relajante donde la asequibilidad y la amabilidad permeen. Llena la brecha de curación en nuestra comunidad que carece de tantas otras opciones de salud privadas / corporativas con fines de lucro por aquí.
(Original)
I have come to Rosie several times for different neck and back issues over the past 2 years, and every time they have gone away after 1-2 sessions spent in her calm, serene acupuncture space. It is a quiet hour well spent getting healed. She has totally figured out how to offer a warm, soothing environment where affordability and kindness pervades. It fills the healing gap in our community that is lacking in so many other for-profit private/corporate healthcare options around here.
Terra Edwards (5)
(Traducido por Google) ¡Amo la acupuntura de la comunidad de El Dorado! ¡Rosie es la persona más dulce que jamás conocerás! Ella se tomó el tiempo de reunirse conmigo antes y responder todas mis preguntas. Ella me ha ayudado mucho con mis dolores de cabeza, dolor de espalda y mucho más. ¡La recomendaría mucho!
(Original)
I love El Dorado Community Acupuncture! Rosie is the sweetest person you will ever meet! She took time to meet with me before and answer all my questions. She has helped me so much with my headaches, back pain, and so much more. I would highly recommend her!
junkbabe1 (5)
(Traducido por Google) Rosie es muy cariñosa y una gran practicante. Es una gran oyente y realmente trata de ayudar a todos sus problemas. Vendré aquí con muchas dolencias y ella siempre es paciente y me voy de allí sintiéndome mejor de lo que entré. La oficina está limpia, tranquila y hermosa. La recomiendo mucho.
(Original)
Rosie is very caring and a great practitioner. She$0027s a great listener and really tries to help all your problems. I will come here with many ailments and she$0027s always patient and I leave there feeling better than I walked in. The office is clean and calm and beautiful. I highly recommend her.
Kerry Rabusin (5)
(Traducido por Google) Rosie está muy bien informada y se preocupa por brindarle lo que necesita para sanar. ¡Es una experiencia que llama a mi alma al final de un día muy ocupado! Ella me ha ayudado con el manejo del dolor por una lesión en el hombro y no podría estar más agradecido.
(Original)
Rosie is very knowledgeable and caring about providing you what you need to heal. It is an experience that calls to my soul at the end of a very busy day! She has helped me with pain management for a shoulder injury and I couldn't be more thankful!
Tasha Karidis (5)
(Traducido por Google) Una forma asequible de recibir acupuntura en un entorno limpio, cálido y acogedor. Rosie te hace sentir bienvenido cada vez. Ella es una curandera natural.
(Original)
An afordable way to receive accupuncture in a clean, warm, and inviting setting. Rosie makes you feel welcome everytime. She is a natural healer.
Wonder Woman (5)
(Traducido por Google) Me siento tan afortunado de haber encontrado
EL DORADO ACCUPUCTURE ?
Rosie es la mejor!
Qué gran ambiente y la mejor parte es la asequibilidad ?
Me encanta este lugar y el servicio que brinda a nuestra comunidad.
(Original)
I feel so fortunate to have found
EL DORADO ACCUPUCTURE ?
Rosie is the best!
What a great environment and the best part is the affordability ?
I love this place and the service it provides to our community.
Las anteriores son opiniones que los usuarios han dejado en el sitio de google maps del local.
No nos hacemos responsables de dichas opiniones.
Ver mas información del centro en internet  El Dorado Community AcupunctureShingle Springs, California, EE. UU.
Horario y dias de apertura :
martes, De 14:00 a 18:00; miércoles, De 9:00 a 13:00; jueves, De 14:00 a 18:00; viernes, De 9:00 a 13:00; sábado, De 9:00 a 13:00; domingo, Cerrado; lunes (Labor Day), Cerrado, El horario podría cambiar

En el mapa pulse : Como llegar , para que el mapa le muestre el camino , desde su ubicación
ver el mapa en otra pagina pulse aqui .
Vea Clínica de acupuntura, en esta provincia .
Vea Clínica de acupuntura, cerca de usted .
Actualizar información de esta pagina , añada la nueva informacion en la parte inferior de esta pag. , en el apartado deja una respuesta, con su nombre y correo reales, no nos escriba un email nosotros no actualizamos la información »
Busqueda de otras Clínica de acupuntura en distintas localidades
Ejemplo de busquedas
– Clínica de acupuntura : para buscar todas las Clínica de acupuntura en Shingle Springs, California, EE. UU..
– Clínica de acupuntura El Dorado Community Acupuncture: buscar Clínica de acupuntura con ese nombre.
  Clínica de acupuntura