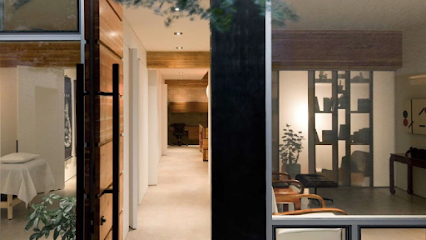 Clínica de acupuntura
Find Your Chi Acupuncture
Dirección
7026 E 1st Ave, Scottsdale, AZ 85251, Estados Unidos
Ciudad : Scottsdale, Arizona, EE. UU.
Provincia :Estados Unidos
Pagina web :
Telefono : +1 480-209-8981
email :
Valoración por los usuarios de google maps : 5,0
Cantidad de opiniones de los usuarios de google maps :15
Opiniones de los usuarios de google maps :
Payal Corley (5)
(Traducido por Google) ¡Toda mi familia y yo vamos ahora a Darin! Él es conocedor, paciente y muy solidario, especialmente si estás nervioso por las agujas. Mis citas de acupuntura con Darin ahora son una de mis formas favoritas de volver a…
Nicole Hedges (5)
(Traducido por Google) El estudio de acupuntura más zen. Desde el momento en que ingresa al edificio, comienza a sentir que las preocupaciones del día se desvanecen. ¡Espero con ansia mis tratamientos ya que se siente como un spa! Darin es un verdadero hallazgo ya que su experiencia y entrenamiento lo hacen único. Él ha ayudado a sanar y aliviar el dolor de cuello de dos discos comprimidos en mi C5-7 y un disco abultado en la misma área. Cuando comencé el tratamiento, tenía un dolor agudo y ahora tengo un programa de mantenimiento que me ayuda a mantener baja la inflamación. Alternamos entre tratamientos terapéuticos y holísticos. Todos los tratamientos ayudan a calmar el estrés diario y me hacen sentir mucho más zen que cuando entré. Ve a buscar tu chi … puedes agradecerme más tarde 🙂
(Original)
The most zen acupuncture studio. From the moment you enter the building you start to feel the worries of the day fade away. I look forward to my treatments as it feels like a spa! Darin is a true find as his expertise and training make him one of a kind. He has helped to heal and relieve neck pain from two compressed disks in my C5-7 and a bulging disk in the same area. When I first started treatment I was in acute pain and am now on a maintenance schedule that helps keep my inflammation down. We alternate between therapeutic treatments and holistic. All of the treatments help to calm daily stress and leave me feeling a lot more zen than when I walked in. Go find your chi…you can thank me later 🙂
Gretchyn Furrier (5)
(Traducido por Google) ¡Ven aquí si buscas un trato seguro y más que satisfactorio! La acupuntura es de gran ayuda para el dolor crónico y la fatiga, y una vez que entré aquí supe que había terminado de buscar la clínica adecuada. El ambiente es muy relajante y profesional, y Darin sabe exactamente qué hacer en todo momento. Él es claramente un apasionado y muy conocedor de su trabajo y realmente te escuchará y responderá cualquier pregunta que tengas. Nunca se verá presionado a realizar un tratamiento para el que no se sienta listo porque Darin es muy comprensivo y reconfortante.
(Original)
Come here if you are looking for a safe and beyond satisfactory treatment! Acupuncture is a huge help for chronic pain and fatigue, and once I walked in here I knew I was done looking for the right clinic. The atmosphere is so relaxing and professional, and Darin knows exactly what to do every time. He is clearly passionate and so knowledgable about his work and he will really listen to you and answer any question you have! You will never be pressured to do any treatment you may not feel ready for because Darin is very understanding and comforting.
dane dukat (5)
(Traducido por Google) He estado en numerosos acupunturistas y mi experiencia con Darin ha sido, con mucho, la mejor. Recientemente, tuve algunos problemas de cuello y espalda que limitaron mi movimiento. Después de unas pocas sesiones con Darin, no solo se alivió el dolor sino que también se restauró y mejoró mi rango de movimiento. Está dispuesto a escuchar sus necesidades y atender la sesión de la manera más beneficiosa para usted. Sobre todo te hará sentir cómodo. Recomiendo encarecidamente sus servicios a cualquier persona con dolor articular o muscular.
(Original)
I have been to numerous acupuncturists and my experience with Darin has by far been the best. Recently, I had some neck and back problems that limited my motion. After a few sessions with Darin not only was the pain alleviated but my range of motion was restored and improved. He$0027s willing to listen to you needs and cater the session in a way that is most beneficial to you. Most of all he will make you feel comfortable. I highly recommend his services to anyone with joint or muscle pain.
Jules Spitzer (5)
(Traducido por Google) Darin es un acupunturista maravilloso, profesional y apasionado. Como cliente nuevo en la acupuntura, te hace sentir seguro y preocupado. Utiliza su amplio conocimiento sobre la acupuntura, pero también le presta atención como individuo para que pueda brindarle el tratamiento más beneficioso y personalizado. Mi espalda baja no se ha sentido tan bien en años. ¡Sugeriría Darin a cualquiera que quiera sentirse lo mejor posible!
(Original)
Darin is a wonderful, professional, and passionate acupuncturist. As a client who is new to acupuncture, he makes you feel safe and cared about. He uses his extensive knowledge about acupuncture, but also pays attention to you as an individual so that he can give you the most beneficial and personalized treatment. My lower back hasn$0027t felt this good in years. I would suggest Darin to anyone looking to feel their best!
El Bennett (5)
(Traducido por Google) Darin en Find Your Chi Accupuncture … Vaya a verlo. Este no solo es un lugar de negocios profesional e impresionante (parece / se siente como un Spa), sino que cuando llega, tiene la comodidad inmediata de ser un lugar de curación también. Promueven las precauciones de seguridad de COVID para el personal y los clientes, por lo que puede estar seguro de que está en los lugares más seguros. Mis finanzas y yo tuvimos la suerte de encontrar Find Your Chi Acc. en un punto estresante en un primer embarazo: el bebé de nalgas donde las inversiones, las visitas al quiropráctico capacitado de Webster y un procedimiento médico de ECV no habían incitado a nuestro pequeño bribón a inclinar la cabeza hacia abajo. Nos acercamos a Darin en busca de ayuda y su empatía y compasión fueron incomparables. Nos consiguió un tratamiento de moxibustión (en su programa ya reservado) y quedamos impresionados por su amabilidad, conocimiento y atención genuina. Nos preparó un programa en el hogar para ayudar a nuestro bebé a dar la vuelta e hizo todo lo posible para prepararnos para el éxito. Si tiene dudas sobre este enfoque de la salud, debe visitar Darin independientemente porque se sentirá renovado y esperanzado al salir. Y sin importar su condición, buscar la experiencia de esta práctica lo dejará absolutamente mejor y con un mayor nivel de bienestar. Scottsdale es muy afortunado de tener Darin y Find Your Chi Acupuncture; encontraremos razones para regresar.
(Original)
Darin at Find Your Chi Accupuncture…GO see him. This is not only a professional and impressive place of business (looks/feels like a Spa), but when you arrive, it has the immediate comfort of being a place of healing too. They promote COVID safety precautions for staff and patrons, so you can be assured you're in the safest of places. My finance and I were lucky to come across Find Your Chi Acc. at a stressful point in a first pregnancy : breech baby where inversions, Webster trained chiropractor visits and a medical ECV procedure had not prompted our little rascal to shift head down. We reached out to Darin for help and his empathy and compassion was unmatchable. He got us in for a Moxibustion treatment (in his already booked scheduled) and we were blown away by his kindness, knowledge and genuine care. He set us up with a home program to help our baby turn and went above and beyond to set us up for success. If you have doubts about this approach to health, you need to visit Darin regardless because you'll feel refreshed and hopeful walking out. And no matter your condition, seeking out the expertise of this practice will absolutely leave you better off and at a greater level of wellness. Scottsdale is quite fortunate to have Darin and Find Your Chi Acupuncture — we will be finding reasons to go back.
Rai Smith (5)
(Traducido por Google) ¡Darin es absolutamente increíble! Él es increíblemente atento con sus pacientes, especialmente aquellos de nosotros que estamos nerviosos y somos nuevos en la acupuntura. El alivio que mi mente y mi cuerpo tienen después de una sesión es más que apreciado. Y realmente aprecio poder hacer preguntas sin sentir que es la pregunta equivocada. Aprecio el tiempo que toma para asegurarse de que estoy cómodo y recibir el tratamiento que necesito.
(Original)
Darin is absolutely amazing! He is incredibly caring with his patients, especially those of us who are nervous and new to acupuncture. The relief my mind and body have after a session is beyond appreciated. And I really appreciate being able to ask questions without feeling like its the wrong question. I appreciate the time he takes making sure I am comfortable and receiving the treatment I need.
Alissa Will (5)
(Traducido por Google) Busqué el tratamiento de la acupuntura y las ventosas para ayudar con el dolor de cuello y hombro. ¡Después de mi primera sesión ya no experimento la sensación de ardor que solía sentir en mis hombros! Darin siempre me hace sentir muy cómodo, responde todas mis preguntas y me ayuda a comprender cómo complementar la práctica haciendo ejercicios en casa. Tres sesiones después, estoy extremadamente satisfecho con mis resultados, me siento muy equilibrado, mente y cuerpo, y continuaré buscando tratamiento allí.
(Original)
I sought the treatment of acupuncture, and cupping to help with neck and shoulder pain. After my first session I no longer experience the burning sensation I used to feel in my shoulders! Darin always makes me feel very comfortable, answers all of my questions, and helps me understand how to compliment the practice by doing exercises at home. Three sessions later I am extremely pleased with my results, I feel very balanced, mind and body, and will continue to seek treatment there.
Adam Pepper (5)
(Traducido por Google) Pensé que el tratamiento que recibí en Find Your Chi Acupuncture me ayudó de muchas maneras. Específicamente, creo que me ayudó a recuperarme de una lesión persistente en los isquiotibiales que no había podido sacudir usando las actividades normales de descanso y recuperación. Más importante aún, Darin realmente me impresionó con su conocimiento de la medicina oriental, tanto los componentes prácticos (prácticos) como filosóficos (energía y chi) de la misma. El aspecto más agradable de mi tratamiento fue cuánto aprendí. Recomendaría Darin a cualquier persona con una lesión persistente o alguien que solo tenga curiosidad por la medicina alternativa. (Incluso si no te gustan las agujas. A mí no, y no fue un gran problema en absoluto).
(Original)
I thought the treatment I received at Find Your Chi Acupuncture was helpful to me in numerous ways. Specifically I believe it helped me recover from a lingering hamstring injury that I hadn$0027t been able to shake using normal rest and recovery activities. More importantly Darin really impressed me with his knowledge of Eastern Medicine, both the practical (hands on) and philosophical (energy and chi) components of it. The most enjoyable aspect of my treatment was how much I learned. I would recommend Darin to anyone with a nagging injury or someone who is just curious about alternative medicine. (Even if you don$0027t like needles. I don$0027t, and it was not a big deal at all.)
Sarah (5)
(Traducido por Google) Primero consideré la acupuntura cuando un dentista me dijo que quería poner Botox como productos químicos en mi cara para detener la molienda … No creo que los productos químicos sean siempre la solución. Nuestro cuerpo usualmente nos está diciendo algo que normalmente reprimimos como una emoción, sabía que era más profundo. Así que busqué diferentes soluciones, y contacté a Darrin cuando encontré que la acupuntura puede ayudar con la molienda.
Él es absolutamente apasionado por ayudar a los demás, es un verdadero sanador. Él me tomó bajo su protección, y comenzó a ayudar no solo con mi molienda sino también con los problemas hormonales que he tenido en los últimos diez años. También me ayudó a volver a tener un estilo de vida saludable, desde comer hasta ejercitarme pero, sobre todo, ayudarme a superar las montañas rusas emocionales y mentales que tenía debido al efecto de los desequilibrios hormonales.
He tenido otros acusadores que te pincharon y te vas, sin que ellos te pregunten sobre tu estilo de vida, tus pensamientos y tu vida amorosa … para saber lo que tu cuerpo te está diciendo, él hace las preguntas correctas, realmente muestra que se preocupa por sus pacientes Veo a Darrin mensualmente, y mantiene mi cuerpo y mente en equilibrio, me siento más saludable que en muchos años gracias a su guía.
(Original)
I first considered accupuncture when a dentist told me he wanted to put Botox like chemicals in my face to stop the grinding…. I don$0027t believe chemicals are always the solution. Our body usually is telling us something that we are typically repressing as an emotion- I knew it was deeper. So I sought out different solutions, and reached out to Darrin when I found accupuncture can help with grinding.
He is absolutely passionate about helping others, he is a true healer. He took me under his wing, and started to help not only with my grinding but also with hormonal issues I have had for the last ten years. He helped me get back on a healthy lifestyle as well, from eating to excercising but above all with heloing me breakdown the emotional and mental roller coasters I had to due the effect of hormonal Imbalancements.
I have had other accupuncturists who just poke ya and you leave, without them asking about your lifestyle, your thoughts, and your love life…in order to know what your body is telling you, he asks the right questions, he truly shows that he cares about his patients. I see Darrin monthly, and it keeps my body and mind balanced, I feel healthier than I have in many years thanks to his guidance.
brittany pirulis (5)
(Traducido por Google) Darin es el mejor! Mi vida ha cambiado drásticamente para mejor desde que fui a verlo. Me sentí frustrado con la atención médica y buscando una alternativa a la medicina tradicional y este es el verdadero negocio. Sus tratamientos han hecho cosas por mí que la medicina simplemente no puede hacer. Me ha ayudado con mis problemas autoinmunes, alergias, desequilibrios hormonales, ansiedad y bienestar general. Después de mis tratamientos me siento más feliz, más tranquilo y rejuvenecido. Es un placer trabajar con él y hace que un tratamiento aparentemente aterrador sea muy cómodo. Él realmente va más allá para ayudar a sus clientes y le recomiendo que busque mejorar su calidad de vida.
(Original)
Darin is the best! My life has changed drastically for the better since going to see him. I had been frustrated with healthcare and looking for an alternative to traditional medicine and this is the real deal. His treatments have done things for me that medicine simply cannot do. He has helped me with my autoimmune issues, allergies, hormone imbalances, anxiety and overall wellbeing. After my treatments I feel happier, calmer and rejuvenated. Such a pleasure to work with and makes a seemingly scary treatment very comfortable. He really goes above and beyond to help his clients and I highly recommend him you are looking to improve your quality of life.
MEDVIBE NITROFIT (5)
(Traducido por Google) Me habían diagnosticado tres discos cervicales abultados y estaba experimentando un dolor de cuello insoportable. Había intentado masajes, fisioterapia, mesas de inversión y almohadillas térmicas. Nada parecía ayudar. Desesperado, decidí probar la acupuntura y terminé en las manos capaces de Darren. Enganchó el estímulo a mis agujas de acupuntura y consiguió que mis trampas y mi cuello finalmente se aflojaran. Después de haber trabajado en cirugías de implantes espinales, puedo decirle que haría cualquier cosa para evitar la cirugía si puede controlar el dolor. Las técnicas innovadoras de Darrens me ayudaron a controlar ese dolor. Ahora lo veo una vez a la semana y puedo pasar el día con mucho menos dolor. Lo recomiendo a cualquiera.
(Original)
I had been diagnosed with three bulging cervical discs and was experiencing unbearable neck pain. I had tried massage, physical therapy, inversion tables, and heating pads. Nothing seemed to help. In desperation I decided to try accupuncture and ended up in Darren$0027s capable hands. He hooked stim up to my accupuncture needles and got my traps and neck to finally loosen up. Having worked in spinal implant surgeries I can tell you that I would do anything to avoid surgery if you can manage the pain. Darrens innovative techniques helped me manage that pain. I see him once a week now and am able to get through my day with a lot less pain. I highly recommend him to anyone.
rebecca kahn (5)
(Traducido por Google) Guau. Realmente no sabía sobre acupuntura, pero estoy muy contenta de haber ido a ver a Darin. Era tranquilo y profesional, realmente leía mi cuerpo y dónde estaban los problemas. Realmente ayudó. Incluso estoy deseando volver!
(Original)
Wow. I didn$0027t really know about acupuncture, but I am so glad I went to see Darin. He was calm and professional, really reading my.body and where the problems were. It really helped. I$0027m even looking forward to going back!
Jonathan Safa (5)
(Traducido por Google) Darin es absolutamente fantástico. He tenido muchos amigos que le he recomendado a Darin y él ha pasado mucho tiempo explicándome el proceso y los beneficios de la acupuntura. Cada vez que estoy en AZ, trato de encajar a tiempo para ver a Darin.
(Original)
Darin is absolutely fantastic. I have had many friends I$0027ve recommended to Darin and he has spent a lot of time explaining the process and benefits of acupuncture to me. Whenever I$0027m in AZ, I try to fit in time to see Darin.
Jason Freeland (5)
(Traducido por Google) Súper profesional, maravilloso para trabajar. El ambiente es fantástico, muy relajante. Tuve un dolor crónico en el hombro, ¡con Find Your Chi es tan bueno como siempre!
Gracias Darin
Jason
(Original)
Super professional, wonderful to work with. The environment is fantastic, very relaxing. Had some chronic shoulder pain, with Find Your Chi it is as good as it every once was again!
Thanks Darin,
Jason
Las anteriores son opiniones que los usuarios han dejado en el sitio de google maps del local.
No nos hacemos responsables de dichas opiniones.
Ver mas información del centro en internet  Find Your Chi AcupunctureScottsdale, Arizona, EE. UU.
Horario y dias de apertura :
martes, De 8:00 a 17:30; miércoles, De 8:00 a 19:00; jueves, De 11:00 a 19:00; viernes, De 8:00 a 2:00; sábado, De 8:00 a 13:00; domingo, Cerrado; lunes (Labor Day), De 14:00 a 18:00, El horario podría cambiar

En el mapa pulse : Como llegar , para que el mapa le muestre el camino , desde su ubicación
ver el mapa en otra pagina pulse aqui .
Vea Clínica de acupuntura, en esta provincia .
Vea Clínica de acupuntura, cerca de usted .
Actualizar información de esta pagina , añada la nueva informacion en la parte inferior de esta pag. , en el apartado deja una respuesta, con su nombre y correo reales, no nos escriba un email nosotros no actualizamos la información »
Busqueda de otras Clínica de acupuntura en distintas localidades
Ejemplo de busquedas
– Clínica de acupuntura : para buscar todas las Clínica de acupuntura en Scottsdale, Arizona, EE. UU..
– Clínica de acupuntura Find Your Chi Acupuncture: buscar Clínica de acupuntura con ese nombre.
  Clínica de acupuntura