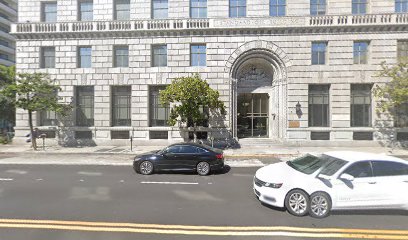 Clínica de acupuntura
Hesoo Healing Space
Dirección
605 West Olympic Boulevard 9th floor, Los Angeles, CA 90015, Estados Unidos
Ciudad : Los Ángeles, California, EE. UU.
Provincia :Estados Unidos
Pagina web :
Telefono : +1 949-554-5455
email :
Valoración por los usuarios de google maps : 5,0
Cantidad de opiniones de los usuarios de google maps :2
Opiniones de los usuarios de google maps :
Patrick Han (5)
(Traducido por Google) En una sesión de 30 minutos, Jason pudo eliminar el dolor de rodilla y la tensión de cadera de mi hermano por levantamiento de pesas.
Como practicante holístico, puede tratar problemas relacionados con el sistema inmunitario, el sistema digestivo, la circulación, etc., yendo más allá del manejo de los síntomas / el dolor mediante el uso de drogas / cirugía al estimular la capacidad de su cuerpo para curarse a sí mismo. Jason es un sanador dotado, así que si tienes algún problema de salud, ¡deberías ir a verlo!
(Original)
In one 30-min session, Jason was able to remove my brother$0027s knee pain and hip tightness from weightlifting.
As a holistic practitioner, he can treat issues related to the immune system, digestive system, circulation, etc, going beyond just symptom/pain management using drugs/surgery by stimulating your body$0027s ability to heal itself. Jason is a gifted healer, so if you have any health issues, you should go see him!
Mikhael Kazzi (5)
(Traducido por Google) Primero fui a Jason para tratar un problema general de la espalda baja / cadera derecha / ciática. Escuchó pacientemente mi descripción vaga y probablemente inútil de lo que me dolía, y luego me hizo algunas preguntas informadas sobre cómo me muevo durante el día, cómo duermo y mi dieta. Por mis respuestas, me dijo que iba a usar puntos en mi cuerpo que aumentarían el flujo sanguíneo a ciertas áreas, abrirían bloqueos de energía y ayudarían a restaurar los desequilibrios. Frio. Realmente no sabía lo que eso significaba, pero nada más había funcionado hasta ahora, así que ¿por qué no desatar las represas de mi chi reprimido para ayudar a aliviar el dolor? Me acosté y él comenzó a insertar las agujas. Justo después de tres o cuatro puntos, me di cuenta de que algo estaba sucediendo. Mi estómago comenzó a hacer ruidos, mi pecho se abrió, estaba respirando más profundamente y podía sentir una sensación cálida en mis pies. Cerca del último punto, mi dolor se había ido. Tuve las agujas colocadas durante aproximadamente una hora y salí sintiéndome muy relajado, tranquilo y móvil. Jason preguntó cómo me sentía y no pude evitar sonreír y reír. Me dio algunos ejercicios para la zona lumbar y ha sido genial desde entonces. Sin ninguna relación, unos meses después, le pregunté a Jason acerca de unas pequeñas llagas que habían estado en mi brazo durante algunas semanas. Me pidió una foto y luego determinó que lo más probable era que fuera una reacción alérgica a algo en mi dieta. Me dio recomendaciones dietéticas y después de una semana las llagas desaparecieron. Recomendaría encarecidamente a Jason como acupunturista y practicante de Medicina Oriental. Es un apasionado de su trabajo y la curación de sus pacientes y realmente escucha sus necesidades. Él está interesado en el bienestar de su cuerpo como un todo y no solo persigue los síntomas.
(Original)
I first went to Jason to treat a general lower back/right hip/sciatica issue. He listened patiently to my vague and probably unhelpful description of what was hurting, and then asked me some informed questions about how I move throughout the day, how I sleep, and my diet. From my responses, he told me he was going to use points on my body that would increase blood flow to certain areas, open up blockages of energy, and help restore imbalances. Cool. Didn't really know what that meant, but nothing else had worked so far, so why not unleash the dams of my suppressed chi to help relieve the pain. I laid down and he began to insert the needles. Just after three or four points, I could tell something was happening. My stomach started making noises, my chest opened up, I was taking in deeper breaths, and I could feel a warm sensation in my feet. Near the last point, my pain had gone away. I had the needles in for around an hour and came out feeling so relaxed, calm, and mobile. Jason asked how I felt and I couldn't help but just smile and laugh. He gave me some exercises for my lower back and it's been great ever since. Completely unrelated, a few months later, I asked Jason about some small sores that had been on my arm for a few weeks. He asked for a pic, and then determined it was most likely an allergic reaction to something in my diet. He gave me dietary recommendations and after a week the sores went away. I would highly recommend Jason as an acupuncturist and practitioner of Eastern Medicine. He is passionate about his work and healing his patients and really listens to your needs. He is interested in the wellness of your body as a whole and isn't just chasing symptoms.
Las anteriores son opiniones que los usuarios han dejado en el sitio de google maps del local.
No nos hacemos responsables de dichas opiniones.
Ver mas información del centro en internet  Hesoo Healing SpaceLos Ángeles, California, EE. UU.
Horario y dias de apertura :
martes, De 9:00 a 19:00; miércoles, De 9:00 a 19:00; jueves, De 9:00 a 19:00; viernes, De 9:00 a 19:00; sábado, De 9:00 a 19:00; domingo, Cerrado; lunes (Labor Day), De 9:00 a 19:00, El horario podría cambiar

En el mapa pulse : Como llegar , para que el mapa le muestre el camino , desde su ubicación
ver el mapa en otra pagina pulse aqui .
Vea Clínica de acupuntura, en esta provincia .
Vea Clínica de acupuntura, cerca de usted .
Actualizar información de esta pagina , añada la nueva informacion en la parte inferior de esta pag. , en el apartado deja una respuesta, con su nombre y correo reales, no nos escriba un email nosotros no actualizamos la información »
Busqueda de otras Clínica de acupuntura en distintas localidades
Ejemplo de busquedas
– Clínica de acupuntura : para buscar todas las Clínica de acupuntura en Los Ángeles, California, EE. UU..
– Clínica de acupuntura Hesoo Healing Space: buscar Clínica de acupuntura con ese nombre.
  Clínica de acupuntura