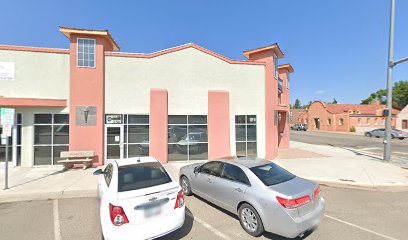 Clínica de acupuntura
Open Skies Acupuncture
Dirección
407 State Ave, Alamosa, CO 81101, Estados Unidos
Ciudad : Alamosa, Colorado, EE. UU.
Provincia :Estados Unidos
Pagina web :
Telefono : +1 970-840-8096
email :
Valoración por los usuarios de google maps : 5,0
Cantidad de opiniones de los usuarios de google maps :19
Opiniones de los usuarios de google maps :
Zoila Gomez (5)
A hidden secret. After a good referral, me and my sister made our way to our first ever acupuncture experience to Open Skies and… Yes, it worked.
One 35/45 minute treatment left me and my sister not only relaxed but pain free. How can that be possible? The treatment eased my severe plantar fascia tissue pain and my sister was able to go on her afternoon walks on a recent sprained ankle. The best kept secret -place/treatment- in the valley. Thanks Tanner. We are coming back!
Secreto Oculto.. Después de una buena referencia, yo y mi hermana fuimos a lo que sería nuestra primera experiencia con acupuntura a Open Skies y… SÍ, Funcionó!
Una sesión de 35/45 minutos nos dejó no solo relajadas pero sin dolor. Como podía ser posible? El tratamiento me ayudó a mejorar el dolor de mi talón y la fascia de la plantilla. Y mi hermana pudo ir a caminar después de que se había torcido el tobillo. Uno de los mejores secretos-lugar y tratamiento escondidos en el valle. Gracias Tanner. Regresamos!
White Crow Ranch SLV Fort Garland,CO (5)
(Traducido por Google) Después de ser ignorado por mi médico occidental a través del VA durante casi 13 semanas con dificultades respiratorias (no relacionadas con el covid. Esto fue en 2018), busqué cuidados alternativos. Con tres visitas de acupuntura y ventosas, estaba casi libre de síntomas agudos. Avance rápido hasta 2020. Solo necesito recibir tratamiento cada 8-12 semanas, donde antes iba de 2 a 4 veces al mes.
Tanner es un practicante increíble que se toma el TIEMPO para escuchar y sentir lo que está sucediendo contigo.
Concierte la cita.
No te decepcionará.
(Original)
After being ignored by my western practitioner through the VA for nearly 13 weeks with breathing difficulties (non covid related. This was in 2018) I sought out alternative care. With in three visits of acupuncture and cupping I was nearly acute symptom free. Flash forward to 2020. I only need to get treatment every 8-12 weeks where I was going 2-4 times a month before.
Tanner is an amazing practitioner that takes the TIME to listen and sense what is going on with you.
Make the appointment.
You won't be disappointed.
Levi Wilner (5)
(Traducido por Google) He tenido problemas de espalda durante los últimos 15 años después de una lesión. Durante varios años he ido a quiroprácticos, recientemente no pude ingresar al quiropráctico, así que probé la acupuntura. ¡Fue increíble! ¡Con unas pocas agujas, el 50% de mi dolor de espalda desapareció casi de inmediato!
Tanner es de primera categoría, y sabe lo que hace. Si no quieres probar la acupuntura, Open Skies es el lugar para ir, punto.
(Original)
I$0027ve had back problems for about the last 15 years after an injury. For several years I$0027ve gone to Chiropractors, recently I wasn$0027t able to get into the chiropractor, so I tried Acupuncture. It was amazing! With a few needles %50 of my back pain vanished almost immediately!
Tanner is top notch, and knows his stuff. If you wan$0027t to try Acupuncture, Open Skies is the place to go, period.
Terry Hammond (5)
(Traducido por Google) He estado yendo a Open Skies por más de un año y medio por muchos problemas. Tanner ha trabajado en el dolor de hombro y cuello, bursitis en la cadera, dolor en la parte inferior de la espalda e incluso neuropatía en los pies. También me ayudó cuando tuve tos crónica, problemas de alergia e insomnio. Voy a Tanner semanalmente por cualquier dolor que tenga o solo salud general. Me he referido a mi hija, a mi esposo y amigos. ¡Todos amamos a Tanner!
(Original)
I have been going to Open Skies for over a year and a half for many problems. Tanner has worked on my shoulder and neck pain, bursitis in my hip, lower back pain and even neuropathy in my feet. He has also helped when I had a chronic cough, allergy problems and insomnia. I go to Tanner weekly for any pain I have or just general health. I have referred my daughter, my husband and friends. We all love Tanner!
Tricia Runningen (5)
(Traducido por Google) La acupuntura puede ayudar con tantos problemas de salud diferentes. Open Skies es una clínica comunitaria de acupuntura, lo que significa que hay una sala abierta con varios cómodos sillones reclinables. El costo por sesión es una fracción de lo que una persona paga por un acupunturista de oficina. Tanner es muy bueno en lo que hace. No hubo dolor y el ambiente de la clínica es muy tranquilo y relajante. Recuerde que la acupuntura es gradual y acumulativa. ¡Altamente recomendado!
(Original)
Acupuncture can help with so many different health issues. Open Skies is a community acupuncture clinic, which means there is an open room with several comfortable recliners. The cost per session is a fraction of what a person pays for a office acupuncturist. Tanner is very good at what he does. There was no pain, and the atmosphere of the clinic is very calm and relaxing. Remember that acupuncture is gradual and cumulative. Highly recommend!
Traci Moon "Divine Path Psychic" (5)
(Traducido por Google) Dr. Tanner, se encarga de ayudarlo a controlar su dolor. De hecho, generalmente te ayuda a eliminar el dolor por completo. Es muy agradable, amable, considerado y servicial. Me alegra saber que todavía hay personas como él en el mundo. Es un gran activo para la comunidad. Gracias Tanner.
(Original)
Dr. Tanner, takes care in helping you manage your pain. Matter fact he usually helps you take away the pain completely. He's very nice, kind considerate and helpful. I'm happy to know that there are people like him still in the world. He is a great asset to the community. Thank you Tanner.
Ashley Weakland (5)
(Traducido por Google) ¡Tanner es asombroso! ¡En un tratamiento mis espasmos de la espalda se detuvieron y no he tenido dolor todo el día! ¡Algo que no he experimentado en años! ¡Todos los que tengan algún problema de salud pueden beneficiarse de sus increíbles servicios! ¡Ojalá pudiera ir todos los días! ¡Es un dios enviado al Valle de San Luis! ¡Gracias Tanner!
(Original)
Tanner is amazing! In one treatment my back spasms stopped and I have been pain free all day! Something I haven$0027t experienced in years! Everyone with any health problem can benefit from his amazing services! I wish I could go everyday!!! He$0027s a god send to the San Luis Valley!!!! Thank you Tanner!!!!
b w Carnahan (5)
(Traducido por Google) El mejor. Tanner es muy compasivo, conocedor y fácil de hablar. Respondió a mis muchas preguntas y me dio una idea de lo que puedo hacer. Recomiendo encarecidamente Tanner y Open Skies Acupuncture.
(Original)
The best. Tanner is very compassionate, knowledgeable and easy to talk with. He answered my many questions and gave me some insight on what I can do. I highly recommend Tanner and Open Skies Acupuncture.
Mary Clement (5)
(Traducido por Google) Tengo alergias y problemas de sinusitis He tomado un descongestionante diariamente durante años. Fui a Open Skies para la acupuntura y finalmente encontré alivio. La experiencia real es relajante y curativa. Muy contento con los resultados.
(Original)
I have allergies and sinus issues. I have taken a decongestant daily for years. I went to Open Skies for acupuncture and have finally found relief. The actual experience is relaxing and healing. So happy with the results.
alfredo herrera (5)
(Traducido por Google) Mi esposa ha estado luchando contra el dolor crónico y quería probar la acupuntura. Encontró este maravilloso lugar que no solo era asequible, sino que también brindaba un excelente nivel de servicio personal al cliente. Tuve una sesión junto con mi esposa y los dos nunca habíamos estado tan relajados. ¡Definitivamente vale la pena!
(Original)
My wife has been struggling with chronic pain and had wanted to try acupuncture. She found this wonderful place that was not only affordable but gave an excellent level of personal customer service. I had a session along with my wife and both of us have never been so relaxed. It's definitely worth it!
elizabeth mccurdy (5)
(Traducido por Google) Acupunturista experto con un conjunto de habilidades que aumenta su práctica. Finalmente, después de aproximadamente 1 1/2 años de tratar de obtener un alivio constante del latigazo cervical, ¡lo he encontrado! ¡Gracias Tanner! Recomiendo esta práctica.
(Original)
Skilled acupuncturist with a suite of skills that augments his practice. Finally, after about 1 1/2yrs of trying to get consistent relief from whiplash – I$0027ve found it! Thank you Tanner !! Highly recommend this practice.
Debbie Cunningham (5)
(Traducido por Google) ¡Finalmente puedo respirar! Los dolores de cabeza están más o menos aclarados, el dolor de hombro ha disminuido. Tanner es genial!
(Original)
I can finally breath! Headaches are pretty much cleared up, shoulder pain has decreased. Tanner is great!
Brian Meuer (5)
(Traducido por Google) Recientemente me lesioné la espalda y comencé la acupuntura para el dolor, después de una sesión mi dolor era tolerable, reservé otra cita, esa noche noté que mi pierna aplastada de 8 años me dejaba congelada y 2 de los dedos no podían muévete SE ESTÁ MOVIENDO Y MI PIE FUE Cálido, no esperaba eso pero estoy muy impresionado !! Para mí eso es nada menos que un milagro … Tanner es muy talentoso y conocedor de saber lo que es mejor para lo que necesitaba, y debido a su talento, la acupuntura me devolvió el pie izquierdo … Así que corre, no camines, dale Tanner en Open Skies Acupuncture una llamada, y deje que sus maravillas de acupuntura trabajen en usted como lo es para mí.
(Original)
I recently injured my back and started acupuncture for the servere pain, after 1 session my pain was bearable so booked another appointment, that night I noticed that my 8 year old crushed leg injury that left my foot always freezing and 2 of my toes unable to move WERE MOVING AND MY FOOT WAS Warm,I wasn$0027t expecting that but I am so impressed !! To Me that$0027s Nothing short of a Miracle…Tanner is very Talented and Knowledgeable with knowing what is Best for what I Needed, And because of his Talent the acupuncture gave me back my left side foot …So run dont walk, give Tanner at Open Skies Acupuncture a call,and let his Acupuncture Wonders work on you as it is for me.
Jonna Meuer (5)
(Traducido por Google) Mi esposo acudió en busca de alivio por una lesión en la espalda por una caída, me impresionó lo rápido que funcionó en su dolor, ya hice otra cita para otra sesión, Tanner es muy profesional, conocedor y talentoso en lo que hace, lo recomendaría a cualquier persona que necesite una mejor manera de aliviar el dolor o lo que sea que necesite.
(Original)
Husband went in for relief for back injury from a fall, I was very impressed with how quickly it worked on his pain, already made another Appointment for another session, Tanner is very Professional , knowledgeable and talented in what he does, I would recommend him to anyone who needs a better way to relieve pain or whatever your needs are.
Lesya Allen (5)
(Traducido por Google) Ambiente tranquilo, agradable, portador, estoy muy agradecido por el trato brindado por profesional altamente capacitado.
(Original)
Quiet, pleasant, carrying environment, I am very grateful for the treatment provided by highly skilled professional.
A. Northrup (5)
(Traducido por Google) Ayudado con el dolor pélvico
(Original)
Helped with pelvic pain
Callie Adams (5)
CaRi ConaRi (5)
Harold Fowler (5)
Las anteriores son opiniones que los usuarios han dejado en el sitio de google maps del local.
No nos hacemos responsables de dichas opiniones.
Ver mas información del centro en internet  Open Skies AcupunctureAlamosa, Colorado, EE. UU.
Horario y dias de apertura :
martes, De 9:00 a 17:00; miércoles, De 9:00 a 17:00; jueves, De 9:00 a 17:00; viernes, Cerrado; sábado, Cerrado; domingo, Cerrado; lunes (Labor Day), De 9:00 a 17:00, El horario podría cambiar

En el mapa pulse : Como llegar , para que el mapa le muestre el camino , desde su ubicación
ver el mapa en otra pagina pulse aqui .
Vea Clínica de acupuntura, en esta provincia .
Vea Clínica de acupuntura, cerca de usted .
Actualizar información de esta pagina , añada la nueva informacion en la parte inferior de esta pag. , en el apartado deja una respuesta, con su nombre y correo reales, no nos escriba un email nosotros no actualizamos la información »
Busqueda de otras Clínica de acupuntura en distintas localidades
Ejemplo de busquedas
– Clínica de acupuntura : para buscar todas las Clínica de acupuntura en Alamosa, Colorado, EE. UU..
– Clínica de acupuntura Open Skies Acupuncture: buscar Clínica de acupuntura con ese nombre.
  Clínica de acupuntura