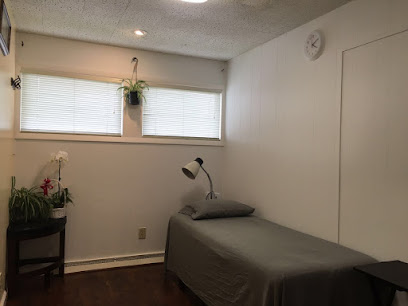 Clínica de acupuntura
Rose Garden Acupuncture
Dirección
B1, 1150 Scott Blvd, Santa Clara, CA 95050, Estados Unidos
Ciudad : Santa Clara, California, EE. UU.
Provincia :Estados Unidos
Pagina web :
Telefono : +1 408-418-6058
email :
Valoración por los usuarios de google maps : 5,0
Cantidad de opiniones de los usuarios de google maps :18
Opiniones de los usuarios de google maps :
Malia Varron (5)
(Traducido por Google) Mi novio y yo conseguimos Groupons para hacer catas de fuego con el Dr. Wesley y nos encantó tanto que continuamos yendo a él. Recomiendo encarecidamente obtener el Groupon y probarlo si nunca antes ha hecho una cata.…
Marjo Mallari (5)
(Traducido por Google) Mi pareja y yo compramos un groupon para catar y el Dr. Wesley nos cuidó muy bien. Esta fue nuestra primera experiencia con ventosas y el Dr. Wesley fue muy amable y nos visitó con frecuencia. Los efectos de las ventosas fueron intimidantes al principio, pero después de más sesiones, ¡se volvió menos aterrador! Después de las ventosas, se siente como si hubiera recibido un masaje y se siente más relajado en el área objetivo.
(Original)
My partner and I bought a groupon for cupping and Dr. Wesley took great care of us. This was out first cupping experience and Dr. Wesley was very gentle, and checked in on us often. The effects of cupping was intimidating at first, but after more sessions, it became less scary! After cupping, it kinda feels like you had a massage and it feels more relaxed in the targeted area.
Irnov Irnov (5)
(Traducido por Google) Fui a Rose Garden Acupuncture por mi alergia. Solía ??tomar pastillas para la alergia y aerosol nasal casi todos los días para reducir los síntomas, pero realmente me hacían sentir cansada todo el día. ¡Después de varias citas con Kevin, la mayoría de mis síntomas alérgicos han desaparecido! Tengo mucha más energía en estos días y libre de drogas. Estoy tan contenta de haber ido a Rose Garden. Pruébelos si tiene problemas con la alergia.
(Original)
I went to Rose Garden Acupuncture for my allergy. I used to take allergy pills and nasal spray almost everyday to reduce the symptoms, but they really made me feel tired all day. After several appointments with Kevin, most of my allergic symptoms have disappeared! I have much more energy these days and drug-free. I am so glad I went to Rose Garden. Give them a try if you have issues with allergy.
E B (5)
(Traducido por Google) Me encanta Tiffany y su negocio. Ella es tan amable y conocedora de la medicina tradicional china. Ella se adapta a citas flexibles, solo necesita enviar un mensaje de texto para programar / reprogramar. Además de la acupuntura, hace gua sha, ventosas e incluso tiene una receta para el tratamiento del acné. Ella me enseñó mucho sobre la medicina tradicional china en los 4 años que la vi. Ella curó completamente mi rinitis crónica no alérgica. Habría seguido viéndola si no me hubiera mudado. ¡Altamente recomendado!
(Original)
I absolutely love Tiffany and her business. She is so kind and knowledgeable about TCM. She accommodates flexible appointments – just need to text to schedule/ reschedule. In addition to acupuncture, she does gua sha, cupping, and even has a recipe for acne treatment. She taught me a lot about TCM in the 4 years I saw her. She completely healed my chronic non-allergenic rhinitis. I would have continued to see her had I not moved away. Highly recommend!
Keith Fox (5)
(Traducido por Google) Visité a muchos acupunturistas en el área del norte de California en los últimos años y nunca estuve satisfecho con los resultados. Así que estaba muy feliz con la Dra. Tiffany Zhang y su personal. Desde el momento en que llegué, noté una oficina limpia y ordenada, su personal fue muy cálido y amable. La Dra. Zhang me trató por dolor de espalda que me había estado atormentando durante años, fue la primera en tener un gran avance para mí y debe decir que ha cambiado mi vida para estar libre de dolor ahora. Le recomiendo hacer una cita, sé que estará muy satisfecho con su conocimiento y su experiencia.
Keith Fox
(Original)
I have visited many acupuncturists in the Northern California area in the last few years and I was never satisfied with the results. So I was so happy with Dr. Tiffany Zhang and her staff. From the moment I arrived I noticed a clean and orderly office, her staff was so very warm and friendly. Dr. Zhang treated me for back pain that had been plaguing me for years, she was the first to have a breakthrough for me and must say it has changed my life to be pain free now. I highly recommend to make an appointment, I know you will be very pleased with her knowledge and her expertise.
Keith Fox
YAO QU (5)
(Traducido por Google) Tiffany está realmente bien informada y es paciente. El ambiente es bueno y se siente relajado durante el tratamiento. Recomiendo encarecidamente visitarla allí. 🙂
(Original)
Tiffany is really knowledgeable and patient. The environment is good and feel relaxed during treatment. Highly recommend to visit her there. 🙂
Isaac Jaffe (5)
(Traducido por Google) No sabía qué hacer. Tenía un problema crónico de cadera que limitaba mi capacidad de caminar y ponerme de pie. Tiffany Zhang fue muy útil al presentarme la acupuntura por primera vez. Hasta ahora he tenido tres citas y he pasado de agujas pequeñas a medianas a largas. Mi dolor ha pasado de un agudo 7, crónico 4 a un agudo 1.5. Mi flexibilidad ha aumentado dramáticamente. Espero ir periódicamente y mi esposa también quiere ir ahora. ¡Altamente recomendado!
(Original)
I did not know what to do. I had a chronic hip problem that was limiting my ability to walk and stand up. Tiffany Zhang was very helpful introducing me to acupuncture for the first time. I have had three appointments so far and have gone from small to medium to long needles. My pain has gone from a sharp 7, chronic 4 to a sharp 1.5. My flexibility has increased dramatically. I look forward to going periodically and my wife also wants to go now. Highly recommend!
Miranda Shen (5)
(Traducido por Google) He estado visitando al Dr. Zhang para la acupuntura, y cada vez, ella se aseguró de que estuviera cómoda y entendiera lo que estaba pasando. Hasta ahora, he estado viendo buenos resultados con los tratamientos, y he tenido una experiencia agradable.
(Original)
I$0027ve been coming to Dr. Zhang for acupuncture, and every time, she made sure I was comfortable and understood what was going on. So far, I$0027ve been seeing good results with the treatments, and I$0027ve had a pleasant experience.
Evan Yap (5)
(Traducido por Google) Traje a mi novia para que consiguiera el alivio del estrés con ventosas de fuego + acupuntura que tanto necesitaba. Ella insistió en conseguirme una sesión como regalo de graduación, así que volveremos a visitarla en el verano. No se ha sentido tan relajada en, cito «años». El personal es increíblemente informado, receptivo y francamente genuino. Recibo (información censurada) como prueba de que no se trata de una reseña falsa o falsa: P Ir a mostrar el apoyo de acupuntura local.
(Original)
Brought my girlfriend to get very much needed fire cupping + acupuncture stress relief. She$0027s insisted on getting me a session as my graduation gift so we$0027ll be visiting again in the summer ish. She hasn$0027t felt so relaxed in I quote «years». The staff are incredibly knowledgeable, responsive, and just downright genuine. Receipt (censored info) for proof that this isn$0027t some fake/botted review 😛 Go show local acupuncture support.
Hedy Ak (5)
(Traducido por Google) Fui allí por primera vez y ya me siento mucho menos estresado y más tranquilo. Fueron amables y escucharon atentamente mis problemas de fertilidad.
(Original)
I went there for the first time and already feel much less stressed and more calm. They were kind and carefully listened to my fertility issues.
Chen Robert (5)
(Traducido por Google) Los cinco tratamientos de la Sra. Tiffany Zhang hacen que mi dolor en la cintura desaparezca. Seguiré viéndola en el futuro. La recomiendo encarecidamente.
(Original)
Ms Tiffany Zhang$0027s five treatments make my pain in the waist disappear. I will continue to see her in the future. Strongly recommend her.
Paul Arnao (5)
(Traducido por Google) Soy nuevo en acupuntura, pero estoy muy feliz de encontrar una mejora notable en la calidad de mi sueño después de un corto período de tratamientos.
(Original)
I$0027m new to acupuncture but very happy to find noticeable improvement in my sleep quality after a short period of treatments.
Debra Teixeira (5)
(Traducido por Google) Tiffany ha hecho un trabajo increíble ayudándome a deshacerme de mis dolores de cabeza. Estoy completamente asombrada y en deuda con su servicio.
(Original)
Tiffany has done an incredible job helping me get rid of my headaches. I am completely amazed and indebted to her service.
zamora483 (5)
(Traducido por Google) Muy bien limpio y con muchas precauciones covid. Mi sesión fue tan relajante
(Original)
So nice clean and plenty of covid precautions. My session was so relaxing
Tiffany Zhang (5)
ke xin li (5)
edna louise (5)
Karenne Luten (5)
Las anteriores son opiniones que los usuarios han dejado en el sitio de google maps del local.
No nos hacemos responsables de dichas opiniones.
Ver mas información del centro en internet  Rose Garden AcupunctureSanta Clara, California, EE. UU.
Horario y dias de apertura :
martes, De 10:00 a 18:00; miércoles, De 10:00 a 18:00; jueves, De 10:00 a 18:00; viernes, De 10:00 a 18:00; sábado, De 10:00 a 18:00; domingo, De 10:00 a 18:00; lunes (Labor Day), De 10:00 a 18:00, El horario podría cambiar

En el mapa pulse : Como llegar , para que el mapa le muestre el camino , desde su ubicación
ver el mapa en otra pagina pulse aqui .
Vea Clínica de acupuntura, en esta provincia .
Vea Clínica de acupuntura, cerca de usted .
Actualizar información de esta pagina , añada la nueva informacion en la parte inferior de esta pag. , en el apartado deja una respuesta, con su nombre y correo reales, no nos escriba un email nosotros no actualizamos la información »
Busqueda de otras Clínica de acupuntura en distintas localidades
Ejemplo de busquedas
– Clínica de acupuntura : para buscar todas las Clínica de acupuntura en Santa Clara, California, EE. UU..
– Clínica de acupuntura Rose Garden Acupuncture: buscar Clínica de acupuntura con ese nombre.
  Clínica de acupuntura